A flat fourth-quarter GDP number narrowly saved the UK from meeting the definition of a technical recession for 2022. The EURGBP currency pair saw four consecutive days of losses leading up to the announcement. Bank of England Governor Andrew Bailey spoke on Thursday, hinting at further rate hikes ahead, much to the delight of British Pound (GBP) bulls. However, recessionary fears may re-enter the conversation and invite the bears to put up a fight.
Even with flat quarterly GDP statistics, the Office for National Statistics reported a 0,5% contraction in economic activity for December, as monthly services output slid by 0,8%. Statistics were in line with consensus, but it confirms fears there is more economic downside ahead for the UK as they enter a turbulent year with a dim outlook for realising growth. The EURGBP currency pair was up 0,12% following the announcement.
Technical
The Pound has been showing some resilience against a Euro that softened at the back of lower-than-expected German inflation earlier in the week and geopolitical tensions in Ukraine that keeps weighing on the currency. After the BoE confirmed further hawkishness, the EURGBP currency pair slid down to four consecutive days of losses. However, the flat UK GDP data release has left the currency pair trading at a support level of £0,8867, which may determine the next directional movement. Interest rate hike potential in the UK is currently fighting the fear of an economic downturn in the market. If a breakout above support occurs, we could see further upside to the currency pair as the fear of an economic recession will drive the Pound down. This could bring the first resistance of £0,8899 into play. However, suppose the market continues to digest the recent release and decides that the prospect of further interest rate hikes outweighs the sentiment of a market downturn. In that case, we could see the Pound finding some more strength again and pushing the currency down to resistance at £0,8834.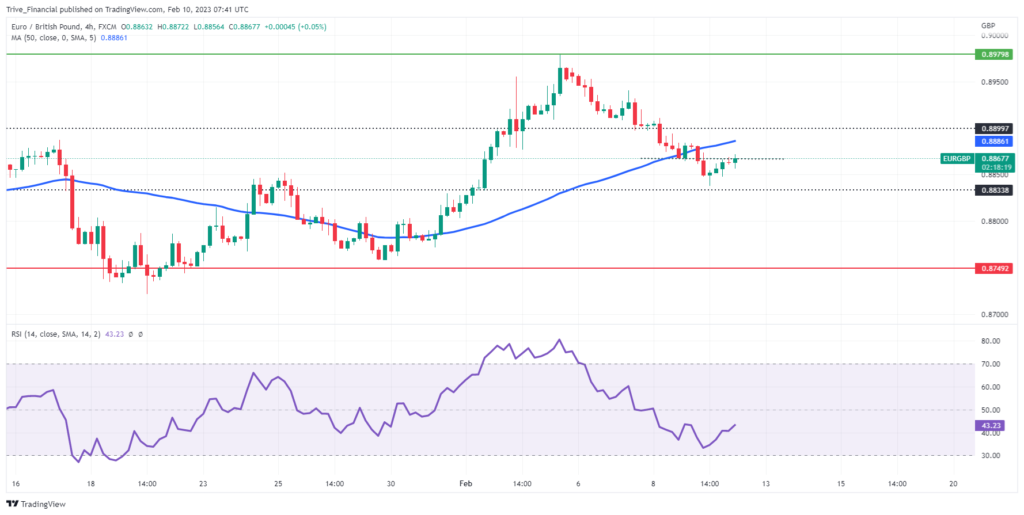 Summary
The UK managed to avoid a technical recession. Still, there are no changes in sentiment that more economic downside may occur in the economy before it starts its path to recovery. The Pound may stay resilient as the Euro continues to strain due to geopolitical uncertainty. Traders will keep an eye on the directional movement around the support level of £0,8867 as they balance the potential for more rate hikes in the UK with the possibility of an early recession in the upcoming year. Some consolidation is possible for the currency pair as uncertainty remains in the market.
Sources: Koyfin, Tradingview, Reuters, Office for National Statistics