USDJPY began the week with bears in full control, forcing the price down 1.20% at the time of writing. US Dollar (USD) strength was the opening theme for the week on the back of a strong US jobs report and growing hawkish expectations among market participants.
The main driver of markets for the week was the reaction by the Fed Chair to the upbeat jobs report. Jerome Powell acknowledges the need for higher rates in response to up-ticking inflation data but did, however, concede that the disinflationary process is underway, something that may be viewed as positive for USD pairs if realised.
Technicals
USDJPY cash market has steadily trended downwards since the last quarter of 2022, driven by a strong US Dollar and low-interest rates in Japan. A breakout above the prior swing high marked new support at the 130.549 level, followed by bullish momentum, which drove the price up to a fresh monthly high at the 132.902 level to form resistance.
Traders will closely monitor support to determine if the current bearish momentum will fizzle out and create a bounce off the level. However, a breakout below support at 130.549 on high volume would indicate growing bearish sentiment and a higher likelihood for the price to find its way to lows at the 128.339 level. Bullish traders will potentially have a target at the 131.456 level should bearish momentum subside at current levels or support.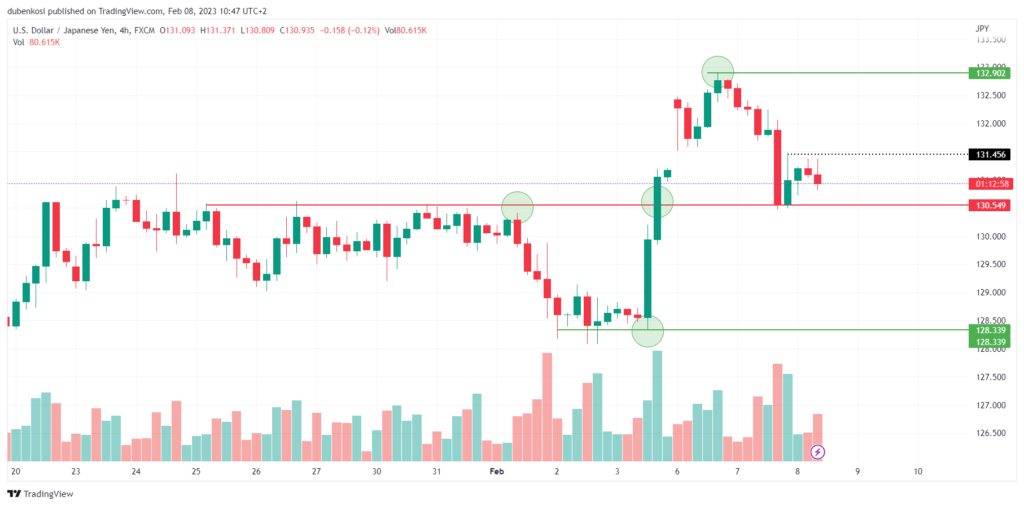 Summary
The Dollar (USD) will likely find a medium to long-term strength if inflation gives way to further interest rate hikes. Contrary to higher interest destinations, negative interest rates in Japan are unlikely to attract capital to its balance sheet, leaving USDJPY's outlook somewhat gloomy.
Sources: Reuters, CNBC, TradingView