The GBP/JPY currency pair is consolidating at lower volumes after a week filled with economic data saw traders swarming in, in an attempt to get on the right side of directional price action.
Softer UK inflation statistics took away the pressuring fear of a recession in the British economy, with calls for the BoE to implement a less aggressive monetary tightening policy. With the BoJ appointing a new governor, the Yen found strength in the sentiment of a more hawkish governor to alter their extremely loose monetary policy. Still, it gained no meaningful momentum to push substantial downside to the currency pair, as Japan also recorded economic growth that missed estimates to the downside.
Technical
Trading volumes have subsided in the currency pair as the market continues to digest the relevant economic data. A symmetric triangle has formed on the 1H chart as the currency pair consolidates. The pattern has been filled, with a breakout to either side on the cards. If the currency pair breaks out above 161,53 (upper black dotted line), the price action could push to where it would meet a higher resistance at 161,90. If resistance does not hold, there is a possibility for a further shift up to 162,45. However, a breakout below 160,78 (lower black dotted line) could force the market to seek lower support at 160,13. If support fails to hold at the lower level, another downward shift to 159,43 is possible.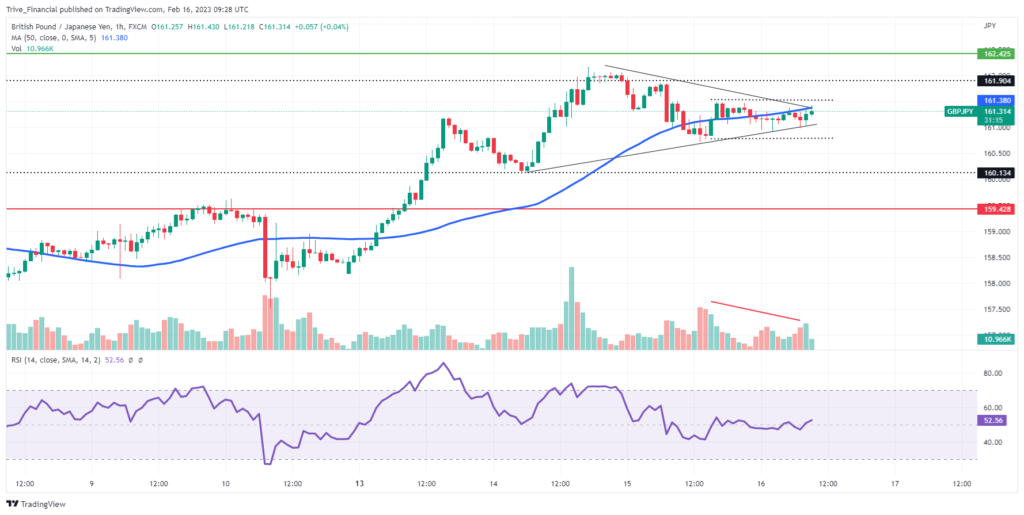 Summary
A breakout to the upside of the consolidation could signal a continuation of the upward trend and may see the currency pair push to 161,90 and 162,45. On the other hand, a downside breakout could signal a reversal that may bring the bears an opportunity to force the currency pair to look for support at 160,13 and 159,43.
Sources; Tradingview, Koyfin, Yahoo Finance