The S&P500 Futures (CME: ES) is down 2.72% from the week's peak, primarily driven by bearish traders jittery about the Banking Sector's health and another 25 basis point rate hike, taking borrowing costs even higher.
The week's high-impact events are left with one more piece of the puzzle, the Non-Farm Payrolls (NFP). The NFP is expected to slow to 180K against last month's 236K, signalling a softening labour market, a factor which could validate a pause in the upcoming Federal Reserve meeting.
Technical
The S&P500's uptrend has come into question after the price crossed below the 100-day moving average. A sharp selloff from resistance at the 4197.50 level led the price to support at the 4070.00 level. Volumes subsided at the support level, with price action consolidating sideways to form a rectangle pattern.
A high volume breakout to either side of the consolidation pattern could validate an extended move in the direction of the breakout. Bullish traders will likely look to the 4197.50 level with interest if a breakout above the pattern ensues, while a breakout below the pattern could validate a leg down with the 3980.00 level a likelihood.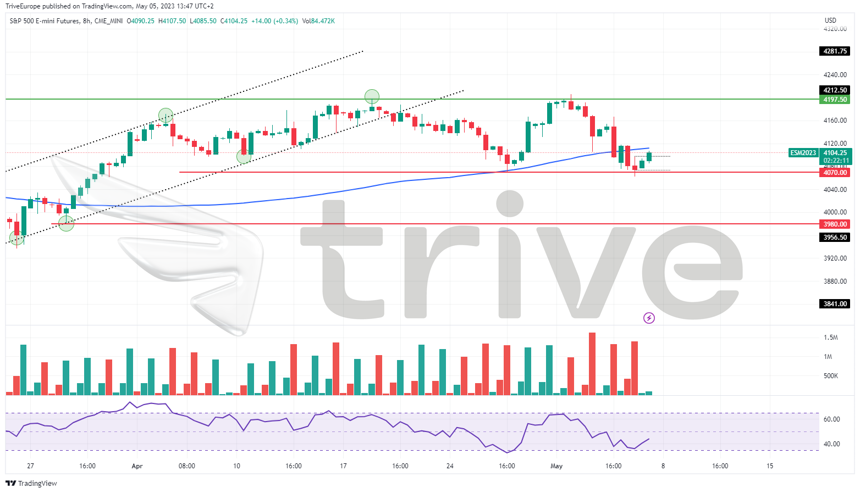 Summary
The NFP report will be the primary driver for today's price action. If the report comes in higher than expected, it could signal that the Federal Reserve's interest rate hikes are far from over, further weighing on the index as borrowing costs surge. The 4070.00 level will determine whether bearish momentum will push on or if the index will be supported.
Sources: Reuters, TradingView