The EURGBP currency pair has experienced three consecutive weeks of losses and is on track to close a fourth in the red.
The Pound has been bolstered by sticky inflation, which refused to budge from double-digit levels. This leaves the U.K. with the highest inflation rate in the G7 and the only one still battling double-digit inflation. In addition, consumer credit picked up steam in March, surprising economists and analysts, landing 31% above consensus and increasing month-on-month. Further compounding on the bullish expectation for the Pound was growth in Retail Sales above expectations, as measured by the BRC – British Retail Consortium.
With all signs pointing to a more robust consumer base in the U.K., The Bank of England (BOE) raised interest rates by 25 basis points, following through with expectations.
Technical
The EURGBP currency pair entered into a steep downtrend following the price breakdown below the 100-day moving average. Key support levels were, in turn, broken as the bearish momentum strengthened. What used to be support at the 0.87307 level now acts as a resistance level, while the 0.85750 level forms support.
With traders largely bearish, the market could continue its downtrend in the hunt for support at 0.85750. If volumes continue to increase to the downside, a leg down towards support could be validated. Alternatively, bullish traders will look to the 0.87307 level as a point of interest if the pair shows signs of weakening bearish momentum. If downside volumes decline, a reversal will likely be imminent, validating a bullish move.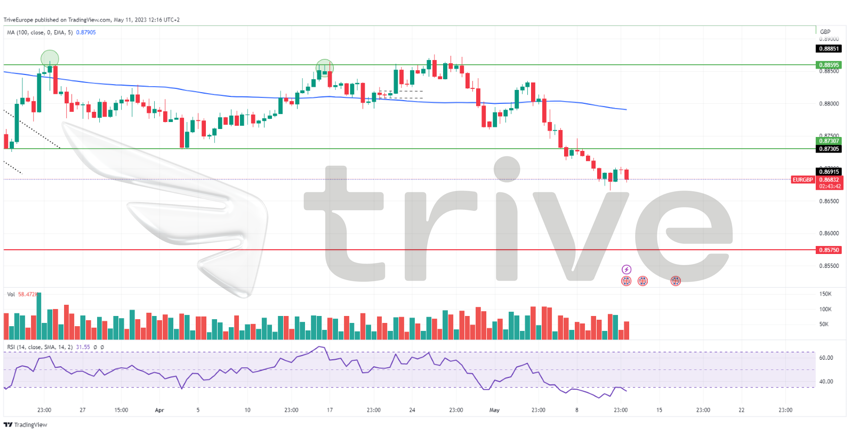 Summary
The 25 basis point rate hike will likely be accompanied more rate hikes as the U.K. continues to battle with excessive inflation. The 0.85750 level will probably be within reach if the BOE persists with rate hikes. However, the EURGBP could be supported by a bullish Euro on the back of similar rate hikes by the European Central Bank.
Sources: Bank of England, BRC – British Retail Consortium, Reuters, The Guardian