The Pound has been losing steam against the US dollar as the GBPUSD currency pair tumbled amid more signals that the American economy is expanding faster than anticipated. The Pound faces a difficult battle to regain strength against its counterpart as the UK economy showcased softer-than-expected inflation, unexpectedly putting a halt on any bullish momentum for the currency pair.
The US reported stronger inflation numbers than expected, along with higher PPI and retail sales statistics, to support the fact that their jobless claims are also reducing. On the other hand, the UK experienced the opposite, as their labour statistics were in line, complementing soft inflation data to the detriment of the Pound. However, stronger-than-expected retail sales numbers from the UK, released today, show that the Pound may not be out of the fight just yet.
Technical
Multiple levels are in play for the currency pair as a strong US dollar continues to cap upside movements. If the Pound finds strength after the announcement of the retail sales, there could be a push to $1,1963 and $1,2031 on the cards. The RSI indicates close to oversold conditions, and if the bulls re-enter with higher volumes, the currency pair could possibly reach the next resistance at $1,2150 (upper solid black line). However, the dollar's strength is likely to persist, barring some fundamental change in its economy. This opens the possibility for a push to $1,1902 (lower solid black line). A breakthrough could catalyse further downward momentum as the lower support at $1,1842 starts becoming more and more topical.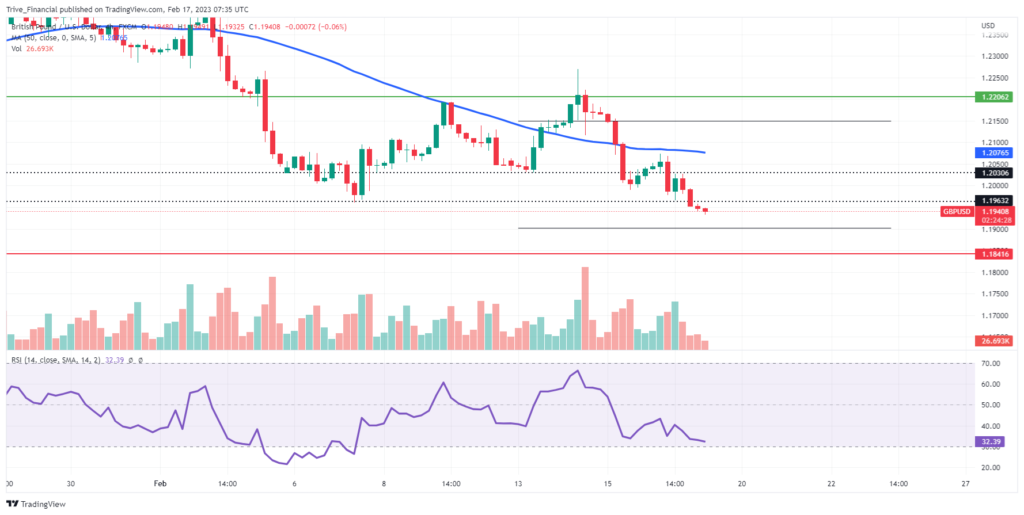 Summary
Robust UK retail sales could potentially push the cable rate to the $1,1963 support level. However, a stronger US dollar continues to prevail, which could possibly entice the bears to drive prices to lower levels as the trend continues to find support at lower levels of interest at $1,1902 and $1,1842, respectively.
Sources: Koyfin, Tradingview, Reuters