It is no secret that market fundamentals support the US dollar, but renewed fundamental strength from the Eurozone has left traders scrambling to get on the right side of the price action for the EURUSD currency pair.
Following a slower-than-expected contraction in Eurozone inflation and hawkish comments from Christine Lagarde, the Euro has bounced back from its downfall. However, US Services PMI statistics on Friday and a much-anticipated speech from Jerome Powell next week continue to loom over the bulls as the currency pair treads sideways.
Technical
After failing to break through the $1,0673 resistance on lower safe-haven demand earlier in the week, the EURUSD currency pair has trickled further down in continuing the downtrend. However, sentiment around an almost certain 50bps rate hike by the ECB has cautioned the bulls and limited the shorter-term downside pressure, with the market providing support at $1,0579.
Euro strength has resulted in some upside on Friday on the hawkish outlook toward current levels of $1,0614, close to the resistance of $1,0609. Eyes are on the US Services PMI later today to give traders a further indication of the robustness of the US economy.
In the case of strong US statistics, the current uptick could get corrected in a move that might break through $1,0609 and retest the support at $1,0579. If support fails to hold, another leg down to $1,0552 is on the cards. However, if support does hold, the sideways consolidation might continue between $1,0579 and $1,0609 in anticipation of Jerome Powell's speech.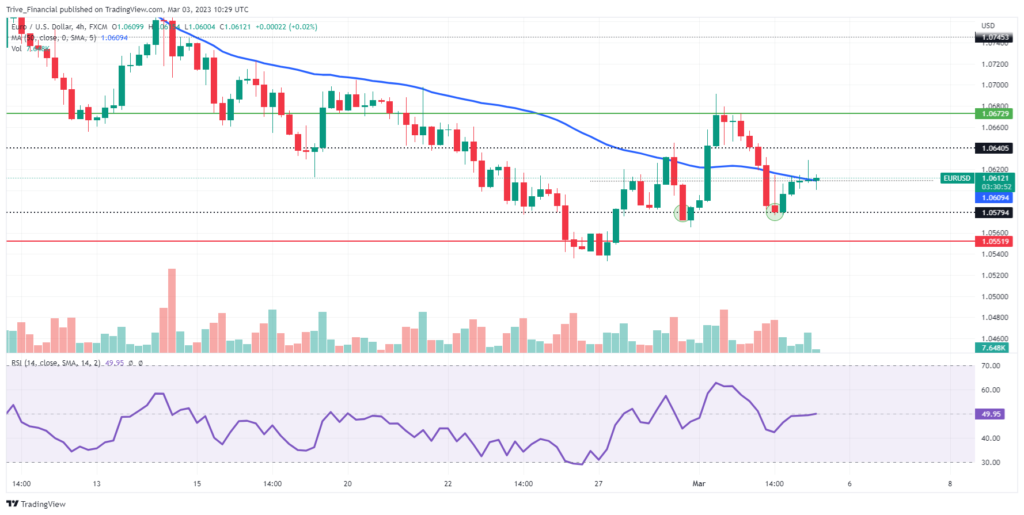 Summary
With both economies experiencing strength from a fundamental backdrop, future movements may be data-driven. The US Services PMI is the first potential release to drive such a movement, with robust statistics opening up the potential for a correction move down to support at $1,0579.
Sources: Koyfin, Tradingview, Reuters