Traders have taken a step back from the S&P 500 futures (CME: ES) market in Tuesday's trading ahead of the U.S. Federal Chair's testimony.
Equities, which are prone to high-interest rate environments, are likely to take a direction following the testimony. If the Federal Reserve signals aggressive hawkishness, the index could find downside price action probable, while a less hawkish tone may relieve bullish traders.
Technical
Price action has stalled to trade sideways on light volume, following a bullish drive. Support and resistance are currently at the 4024.75 and 4088.25 levels, respectively.
If bulls look to resume their uptrend, price will likely move up towards the 4088.25 resistance level. Alternatively, if bears enter the market at present levels, price will probably be attracted towards support at the 4024.75 level.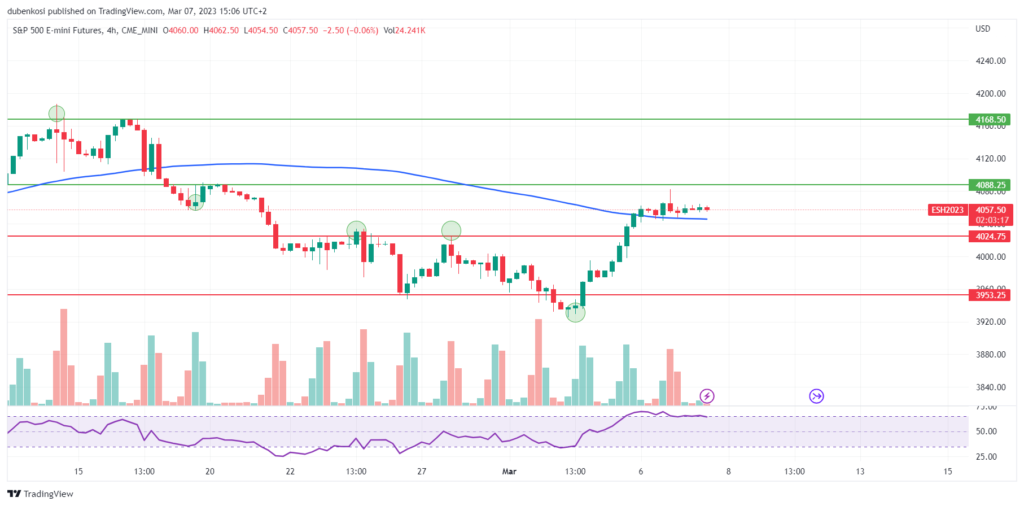 Summary
With the U.S. labour, retail sales and inflation coming in hotter than expected in recent weeks, bets of a 50 basis point rate hike have grown to 30%, from 9.2% a month ago. Traders will look to Jerome Powell's speech for signs of aggressive rate hikes, which will likely dampen equity valuations in the short term.
Sources: Reuters, CME Fed Watch Tool, TradingView