All eyes are on the US Federal Reserve (Fed) and the Bank of England (BoE), due to make their interest rate decisions this week, which could cause disruptions in the global financial markets. With the US releasing their decision later today, followed by the Bank of England on Thursday, the FTSE 100 had a mixed trading day on Tuesday with conflicting signals about the economy's direction.
The UK markets are still vulnerable to the effects of tight monetary conditions and a recession that has been edging closer. The FTSE100 (LSE: UKX) experienced a drop on Tuesday as questions are being asked about their potential to realise economic growth in the current macroeconomic conditions for the year ahead. However, some relief was given in the form of a higher economic growth projection by the IMF for the global economy that pushed US indices up, with the FTSE100 short on its heels, closing at 7771, down from its highs of 7862 the week before. 
Technical 
After a rally early in the year, the index has been retracing from its highs and forming a pattern that can be seen as a falling wedge. The index is consolidating as it awaits critical economic data that could catalyse a breakout in either direction. A breakout to the downside below two key support levels of 7747,59 and 7726,39 occurred early on Tuesday, followed by a retracement to its closing level of 7771,69. All eyes are now on the US Fed, as a favourable interest rate decision could see the FTSE100 closely follow the US indices that would likely trend upwards.
This could potentially lead to a breakout above the wedge pattern. However, the decision is more hawkish than the expected 25bps hike. In that case, further downside is possible, which could push the index down to the 7747,59 support level while awaiting the Bank of England's decision. The Bank of England is expected to be more hawkish than the Fed, which could strengthen the pound on Thursday and force the FTSE100 even lower, bringing lower support levels at 7726,39 and 7683,03 into focus.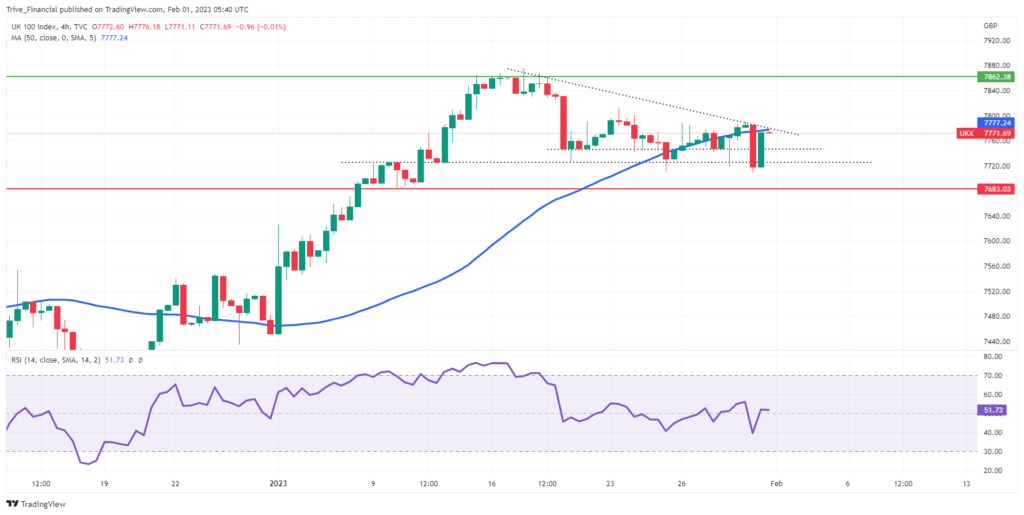 Summary
All eyes are on the US Fed and BoE interest rate decisions this week. If the Fed sticks to expectations of lowering the rate at which they will hike interest rates, a potential short opportunity for the bears, in anticipation of the Bank of England decision taking place on Thursday.
Sources: SeekingAlpha, Koyfin, Tradingview