The NASDAQ100 futures (CME: NQ) gave up gains after reaching a fresh peak for 2023 at the 13345.00 mark. The adage "Buy low" occurred and led to a "sell high" operation as the market sold off on Tech stocks which were the biggest decliners in the past day.
Fears of a slowdown in economic growth emerged following the slowing of private sector hiring, decline in job openings and manufacturing activity reaching a three-year low. The markets now await Friday's Non-Farm Payrolls for clues on whether inflation will taper off on a weakening labour market or vice versa.
Technical
The NASDAQ100 Futures have nudged higher on risk-asset demand in the past couple of weeks, leading to price action trading above the 100-day moving average. Support was formed at the 12635.00 level, while a rejection of the 13345.00 level established a resistance level.
Price action has so far retraced to the 50% Fibonacci Retracement level, where a sideway consolidation is in progress as bulls and bears battle for the dominant direction. If the 50% retracement level holds as support, a reversal is probable, with the 13345.00 level earmarked as a level of interest for a bull case.
Alternatively, if bearish traders plan on raiding the market, a breakout below the 12990.00 level on high volumes could validate a probable leg down, making the 12635.00 level a likely point of interest for bears.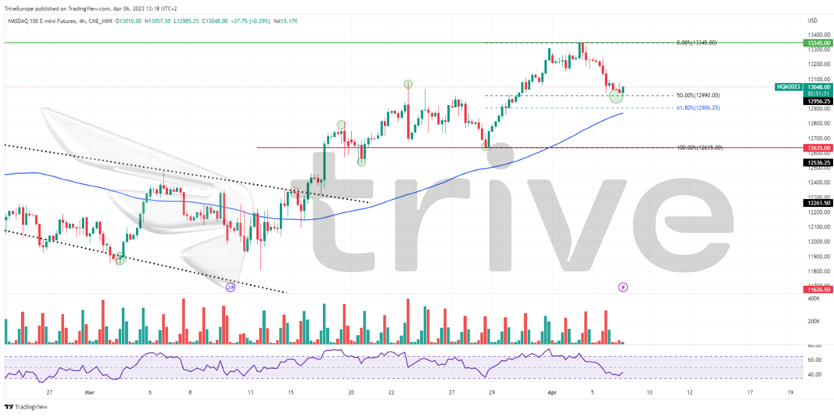 Summary
The week's highlight, the U.S. Non-Farm Payrolls (NFP), will have traders nail-biting as they determine where inflation and the Federal Reserve are in their complicated relationship. If the NFP shows signs of weakness, in line with other economic metrics this week, the NASDAQ100 Futures could experience upside momentum as another interest rate hike becomes less of an obligation for the Fed. The key level to watch will be the 12990.00 level as it could define the bullish or bearish sentiment.
Sources: Reuters, TradingView