The EURUSD currency pair is trading flat in early Monday trading, despite opening the week with positive news over the Debt Ceiling crisis. U.S. Lawmakers settled on scrapping the debt ceiling until 2025, allowing the U.S. to avoid a default.
The week ahead will likely be highly volatile as plenty of economic events are lined up, with some of them quite critical. Euro Area inflation is lined up mid-week, while the U.S. Non-Farm Payrolls will be released at the week's close.
Technical
The EURUSD currency pair has been under the duress of bearish traders as they have forced the pair lower in recent weeks. The downtrend is fully in play as the price trades below the 100-day moving average within a descending channel pattern. Support and resistance are located at the 1.07122 and 1.08292 levels, respectively.
Given that the pair is trading at support with the Relative Strength Index pointing to oversold conditions, a reversal from support could play out if demand outweighs supply. Bullish traders will likely aim high, with the 1.08292 level probably earmarked as a point of interest.
However, if bearish traders persist in selling off the pair, the 1.06356 level could materialise if a high volume breakdown below the support level occurs.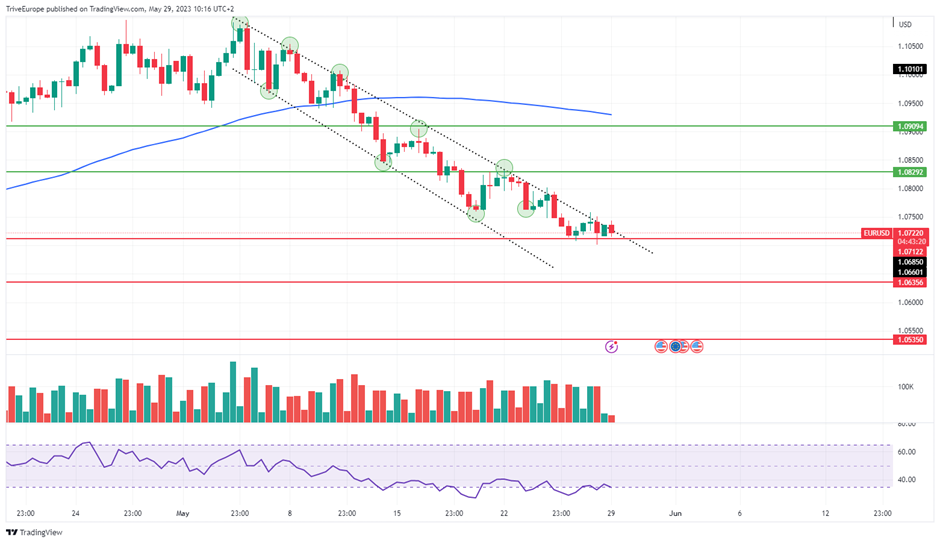 Summary
The EURUSD currency pair will likely consolidate as traders anticipate critical economic data to provide direction. The 1.07122 level will be vital in determining whether the pair will undergo further selling pressure or if it will be supported at the level.
Sources: Reuters, TradingView