The NASDAQ100 Futures (CME: NQ) is up 2.05% week-to-date and has approached a critical level where supply completely outdid demand in August 2022. Traders will likely be at loggerheads as they come towards the crossroad where bulls have to decide if they value the NASDAQ100 Futures beyond the level or if bears have the upper hand due to the level's history of excess supply.
Traders will likely monitor the U.S. Labour Market Reports and Speech from Fed Chair Jerome Powell to decide if the macroeconomic conditions in the U.S. are healthy enough to shield the NASDAQ100 Futures from the downside or not.
Technical
The NASDAQ100 Futures have powered higher, supported by a return to risk on sentiment. The index is firmly in an uptrend, with the price running away from its 100-day moving average. Support was formed at the 13345.00 level after a breakout above the level undid its resistant properties. Resistance is located at the 13701.50 level, which forms a key high of 2022.
A breakout above the 13701.50 level on high volumes could indicate that bullish momentum is unrelenting. The 14280.50 level will likely be the next point of interest if bullish traders fight on. Alternatively, a textbook reversal from resistance could play out if supply outweighs demand at the 14280.50 level, as it did a few months ago. Bearish traders will likely be enticed by the possibility of lowering the index towards support at 13345.00.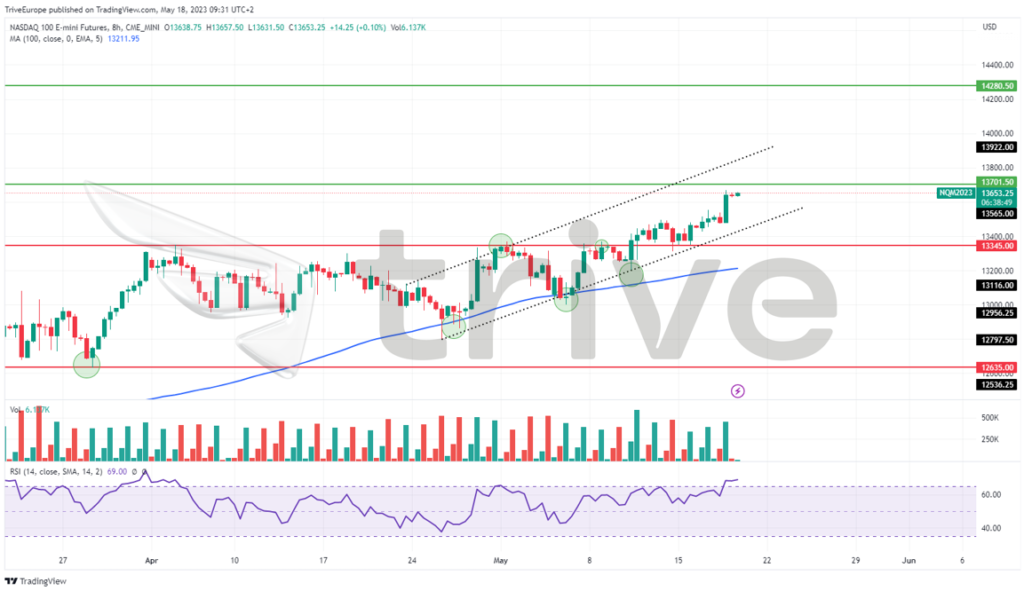 Summary
The NASDAQ100 Futures' current standing reflects the upbeat performance of earnings in the first quarter, especially that of the Tech sector. In addition, risk-on sentiment has driven the index higher as the U.S. economy has shown signs of weakness, with the probability of another rate hike moving into the less likely side. The 13701.50 level will be key to watch as traders prepare for the next move from there.
Sources: Reuters, CME FedWatch Tool, TradingView