The EURUSD currency pair bulls took their last breath in Tuesday's trading as hawkishness prevailed following Fed Chair Jerome Powell's affirmation of further aggressive rate hikes to fight inflation.
The dollar reached a three-month high against major currencies, while the two-year U.S. Treasury Yield hit 5% for the first time in 16 years. Traders now anticipate a 70% chance of a 50 basis point rate hike, up from a 30% chance a day earlier, further reinforcing the hawkish stance. The Greenback and U.S. Treasury Yields will likely find tailwinds at the expense of the Euro going forward.
Technical
Bears have weighed down the EURUSD as a downtrend progressed. An ascending triangle unfolded with a robust supply zone forming resistance at the 1.06906 level. A breakout below the upward-sloping trendline, which formed a dynamic support level, endorsed bearish momentum and led the pair into support formed at the 1.05331 level.
With the EURUSD trading at its support level on the back of bearish pressures, a breakout below the 1.05331 level on high volumes could signal traders' interest in taking the pair lower. Bears will likely look to the 1.05034 level with interest if they remain invested in the downside.
Alternatively, if bulls look to buy low, they could enter the market at support and drive the pair higher, with the next probable level of interest being the 1.05707 level or the 23.60% Fibonacci Retracement Level if a pullback is shallow.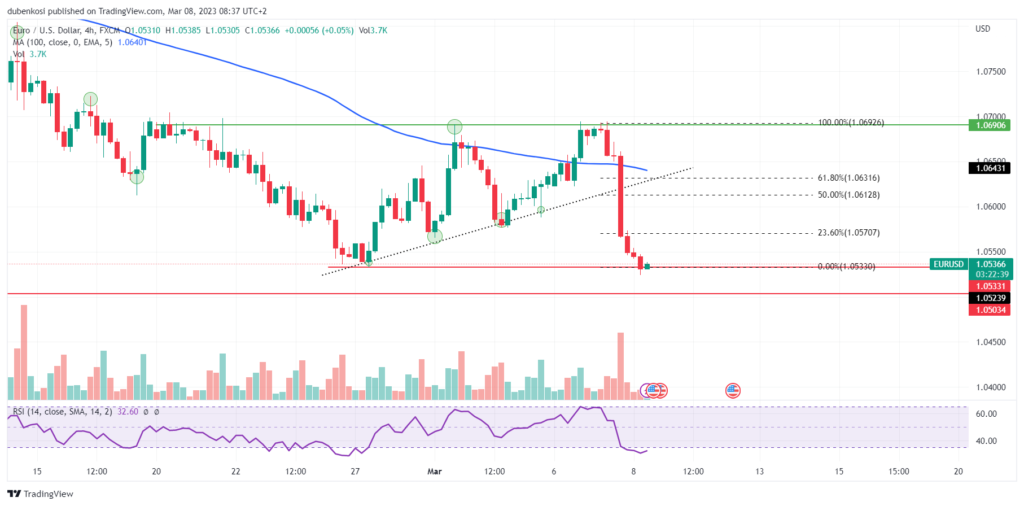 Summary
The most notable Central Banker in the world sent the greenback soaring following his hawkish stance. Given that a 50 basis point rate hike is baked in, the EURUSD will likely be weighed down as capital flows toward high-yielding dollar-denominated assets.
Sources: Reuters, CME FedWatch Tool, Insider, TradingView