Nasdaq 100 futures (CME: NQ) gave up Thursday's early gains falling 2.79% from the day's high as US 10-year treasury yields surged by 3% to 3.686%. The surge in bond yields led to outflows from equities as bonds became a favourable alternative to equities. Higher yields repel capital from equities due to growing strains on interest expenses.
Technical
The surge in bond yields threatened the uptrend as 2023's price action moved further away from 2023's highs. A resistance formed at the 12922.00 level, while support formed at 11919.50.
A retracement from the resistance level landed price at the 50% Fibonacci retracement level (12397.00) with volume tapering off, indicating declining bearish momentum. The level matches up with the upward trendline like a hand in a glove. This confluence may potentially provide bulls with a reason to take the price higher, with sights set on the 12923.25 level.
However, if bearish momentum fails to give in, a breakout below the 12397.00 level could support a bearish case with the 11919.50 points as a level of interest.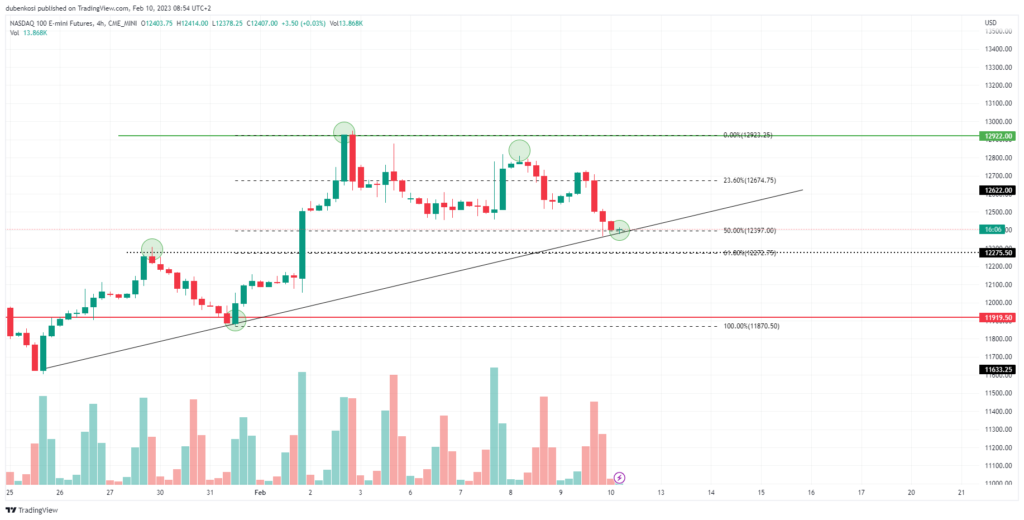 Summary
Bearish traders overrun the present market. Traders will monitor the 12397.00 level to determine whether bears fight on or if bulls will gain control of the market and push it higher
Sources: Reuters, TradingView