The EURUSD currency pair is on track to end a fourth consecutive week in the green. The pair is approaching its year-to-date peak set on the 2nd of February at the 1.10307 level.
Driving the pair higher is softer U.S. inflation, which came in 1% lower year-on-year, while fears of a potential recession in the coming months were induced by the FOMC minutes weakening the greenback's outlook.
Technical
The EURUSD currency pair uptrend was fully in play after the price rejected the 1.08330 level, which coincides with the 100-day moving average and 61.80% Fibonacci Retracement Golden Ratio. An ascending channel pattern printed support at the 1.09696 level following a high volume breakout above the level, which acted as resistance prior to the breakout. Resistance was set at the 1.10307 level after the price began trending lower, setting the pair's year-to-date pinnacle.
With bulls commanding the pair, a breakout above the 1.10307 level supported by high volumes could validate an extended move higher. If a breakout ensues, bullish traders will likely be encouraged to take the pair higher, toward the 1.10682 level, which makes up the 23.6% Fibonacci Extension level.
Alternatively, a reversal is probable if bears respect the year's peak. Bearish traders will likely look to the 1.09696 level with interest if they congregate at resistance and outdo bullish momentum.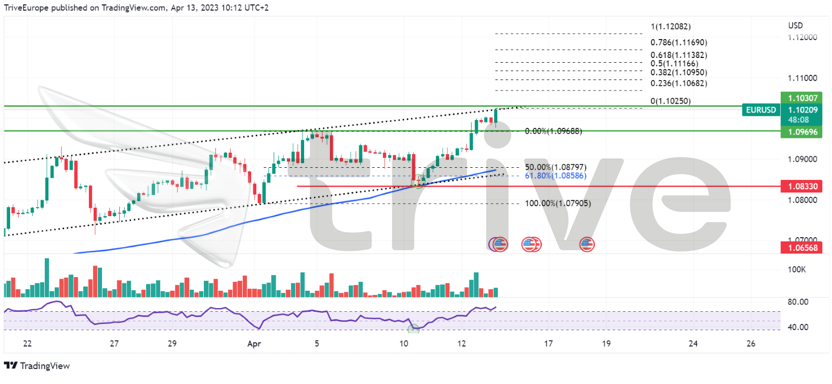 Summary
Traders will now focus on the U.S. Producer Inflation Data and labour market reports as they seek validity for the greenback's weakness. The 1.10682 level will be critical in determining if bulls are tenacious in their upside exposure.
Sources: Reuters, TradingView