The Greenback has given up some ground against Euro bulls, following a 1% gain from last week's lows. Euro strength came on the back of strengthening Euro Area inflation, which cemented hawkish sentiments.
With the European Central Bank (ECB) committed to fighting inflation, the ECB will likely initiate steeper rate hikes, while a 72% chance of a 25 basis point rate hike by the Federal Reserve has been baked in.
Technical
The EURUSD currency pair has trended upwards, with support and resistance formed at the 1.05941 and 1.06906 levels, respectively.
Following a retracement from resistance, price was led into the 61.80% Fibonacci Retracement level and met with bullish momentum. With bulls currently in control, price is heading upward, with the following potential point of interest set at the 1.06906 level.
If bears look to enter the market, the most attractive entry point will likely be at the resistance level, with the 1.05941 level a probable take-profit level for downside price action.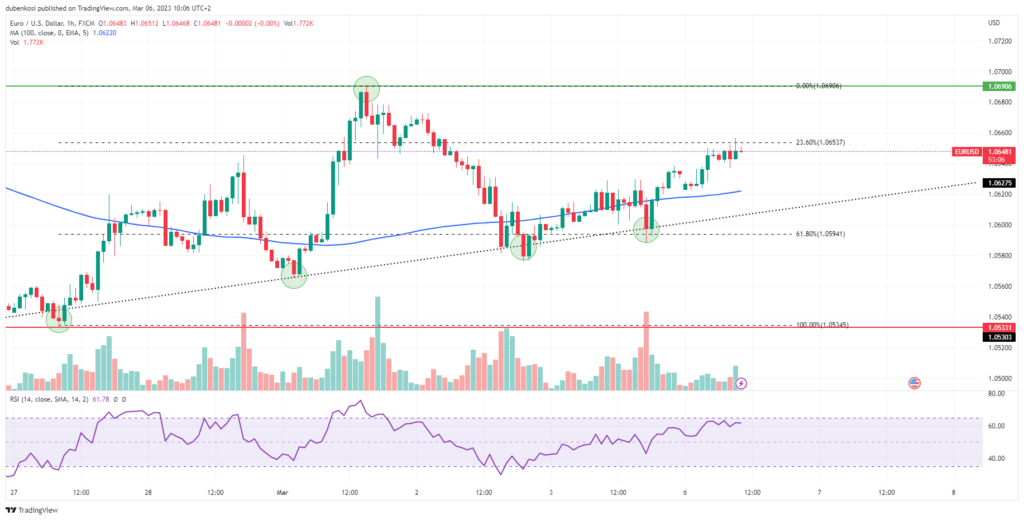 Summary
This week, traders will pay attention to the United States Fed Chair Powell's Testimony and U.S. Non-Farm Payrolls for signs of inflationary development. If the Fed commits to hiking rates further, while the labour market is robust, downside price action will likely find less friction, with the 1.05941 level probable.
Sources: Reuters, TradingView