AUS200 (ASX: S&P/ASX 200) bulls have maintained a strong footing post a Fed Rate Hike of 25 basis points. AUS200 is trading at nine-month highs after recovering from a steep 2022 selloff.
The uptrend has primarily been driven by signs of cooling global inflation and a resilient Australian economy supported by better-than-expected Purchasing Manager Index (PMIs) in both manufacturing and services, month over month.
The short to medium-term outlook is positive but is likely to be offset by headwinds from a potential soft global recession and elevated interest rates that inflate borrowing costs and hinder growth.
Technicals
Bulls have mostly dominated 2023 Year to Date, raising the index by 6.2% in January and delivering a record first month of the year. This was driven by sentiment shifting towards global economic conditions moving away from an inflationary environment.
Price action broke out of the 7365.1 level with solid bullish momentum, leaving the level as newfound support. If bullish momentum persists at current levels, the price will push up towards resistance at the 7634.2 level. On the contrary, traders will closely monitor support at 7365.1 to determine if bears will be drawn towards it on high volume.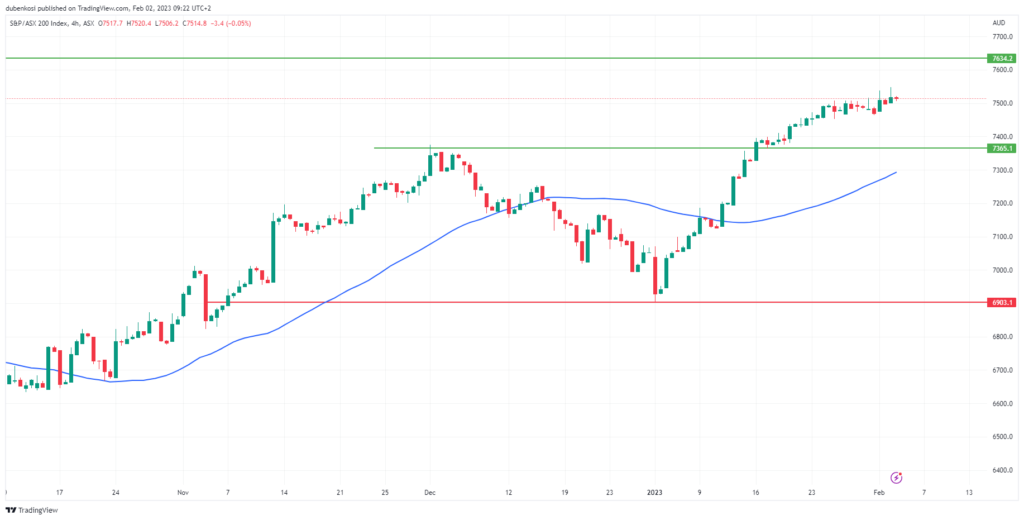 Summary
Australian economic data has provided mixed signals. Inflation for December 2022 came out at 8.4% vs 7.6% anticipated, encouraging potential rate hikes in future. On the other hand, retail sales were down -3.9% vs -0.3% expected, signalling cooling consumer demand. In light of mixed fundamentals, traders will monitor the resistance and support levels closely as a breakout in either direction will provide ideas on the strength and direction of future price movement.
Sources: Tradingview, Koyfin, Reuters.