The EURJPY currency pair traders have pointed mainly in one direction, up. The pair has gained 2.63% in a fortnight, and bulls have started the current week on the front foot.
The interest rate differential continues to drive the pair higher. With the European Central Bank committed to fighting inflation, interest rate hikes will likely prevail. On the other hand, Japan has succumbed to inflation which has soared to a 41-Year high at 4.2%, while the interest rate remains in negative territory.
Technical
Following a bullish run, price reached a resistance area at the 144.444 level before sellers came in to drag the pair slightly lower. Support currently sits at the 143.689 level.
With the bears testing the resistance zone, a sell-off could likely occur if high volumes accompany it. Bears may find the 143.689 level of interest should they sustain a sell-off.
Alternatively, bulls will look to the 144.444 level for a breakout on high volume to validate a potential bull run with the 144.999 Fibonacci extension level an area of interest.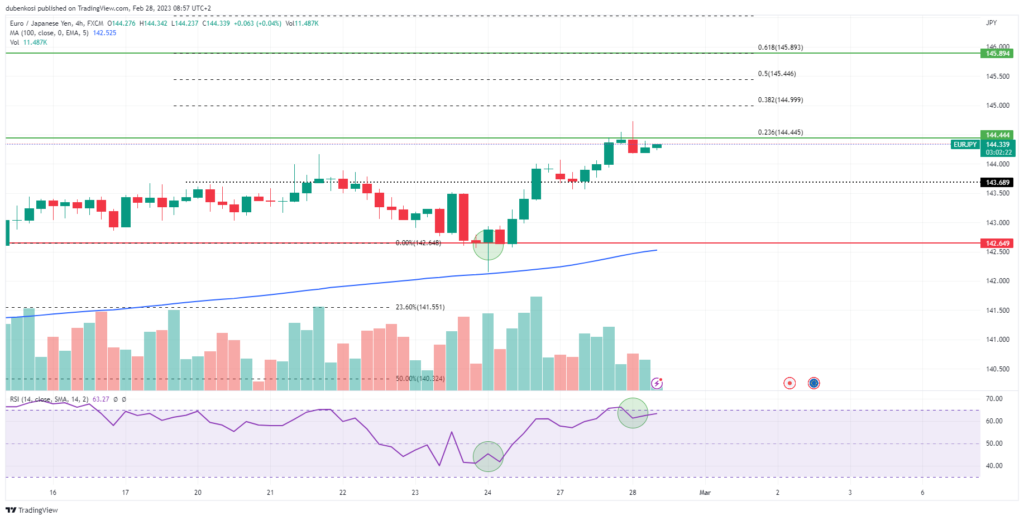 Summary
Given that the EURJPY interest rate differential is a medium to long-term possibility, the pair will likely experience less friction to the upside. A breakout above the 144.444 level could signal bullish momentum building up.
Sources: Reuters, TradingView