The EURJPY currency pair broke above a pivotal high point to reinforce bullish sentiment over the pair. The interest rate differential between the European Central Bank (ECB) and Bank of Japan (BoJ) has driven the pair higher, with BoJ's interest rate in the negative, demand for Euros will likely prevail.
Technical
The EURJPY has trended upwards since the onset of 2023, with support and resistance established at the 139.767 and 142.649 levels, respectively.
Following a retracement from resistance into the 61.8% Fibonacci Retracement Golden Ratio, bullish pressure built up and drove prices towards a breakout above the resistance level. Price stalled and consolidated sideways as traders re-evaluated the conditions.
If bulls fail to loosen their grip on the market, price will likely move to the upside. A breakout above the 143.551 level on high volumes could validate a bullish case, with the next probable level of interest set at the 144.444 level based on the Fibonacci Extension.
If bears look to strike back at current levels, price will likely be dragged down towards the 142.649 level, which was previously a resistance level.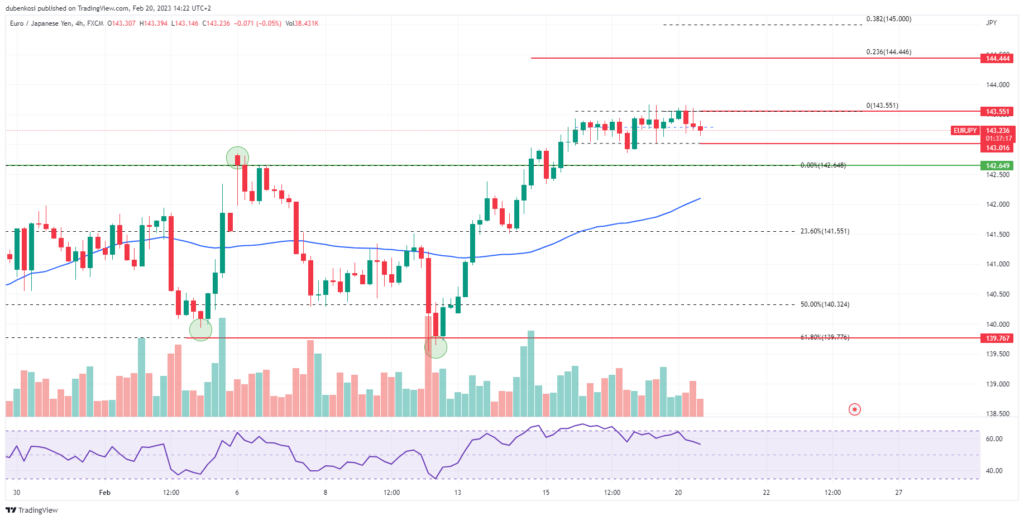 Summary
Bulls are likely to continue running riot on the currency pair as a higher interest rate on the Euro will likely lure more interest due to its higher yields. A bullish case will probably be validated if price trades above the 143.551 level for a sustained period.
Sources: Reuters, TradingView