The second and third largest U.S. bank failures occurred in the prior week, with Silicon Valley Bank and Signature Bank signing off their failures and dragging the Dow Jones 30 futures (CME: YM) lower as fears of contagion spread. Bets on a 50 basis point interest rate hike almost vanished from last week, with a greater chance now placed on a 25 basis point hike.
Traders believe the Federal Reserve is stuck between a rock and a hard place. Fighting inflation calls for raising interest rates while protecting the banking sector calls for a pause or decline in interest rates.
This week, traders will have their attention split between the U.S. CPI inflation and the banking sector crisis as both could provide the index with a direction, more likely towards the downside.
Technical
The Dow Jones 30 futures have been trading in a downtrend represented by a descending channel pattern. Support and resistance were established at the 31891 and 33145 levels, respectively. Price action is currently headed towards the downside, with bears entirely in the driver's seat.
If bears continue to weigh down on the index, price will likely be dragged lower towards the 31891 level. A breakout below the 31891 level on high volumes could signal the bear's commitment to the downside.
Alternatively, if bulls look to the classic financial adage of buying low, a low volume approach and rejection of support at the 31891 level is probable, with the 32582 level a probable point of interest for a bull case.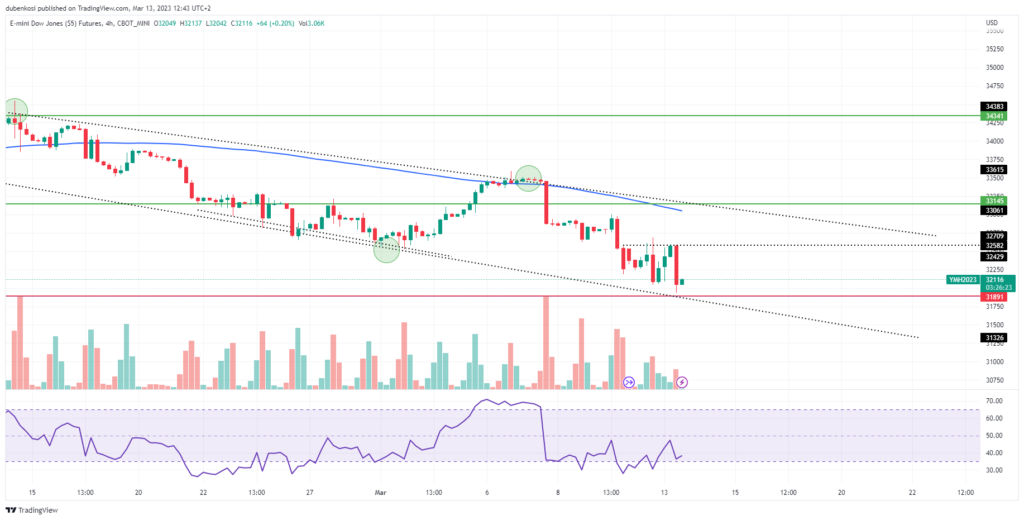 Summary
The main drivers of the Dow Jones 30 for the week will be the U.S. CPI and Retail Sales. Traders will try to determine if the economic data warrants a 50 basis point rate hike as the Fed continues to fight off inflation.
Sources: Reuters, TradingView