The output cut announcement by OPEC+ sent the Brent Crude Oil Futures (NYMEX: BB) rallying 6.56% in the prior week. The dramatic surge in bullish momentum subsided as volumes declined, leaving the Brent Crude Oil Futures consolidating in a tight range.
The demand outlook is gloomy due to a cocktail of factors. In the short term, the American Petroleum Institute (API) crude oil inventory count surged by 0.377M barrels, against expectations of a decline of 1.3M barrels. The inventory build could signal weakened demand following aggressive buying in the prior weeks.
In addition, the IMF cut its 2023 global growth outlook, citing the constraints of higher interest rates, which could weigh on oil demand. However, crude oil prices will likely be supported by output cuts, with the latest forecast from the U.S. Energy Information Administration expecting a 0.5M barrel per day cut by OPEC for the remainder of 2023.
Technical
The Brent Crude Oil futures broke above a prior resistance level with sharp bullish momentum taking the price over its 100-day moving average. Support and resistance were established at the $76.93 and $86.92 per barrel (BLL) levels, respectively.
With volumes tapering off and price consolidating sideways within a rectangle pattern formation, a breakout to either side of the pattern could validate an extended move in the direction of the breakout.
Bulls will likely aim for the $86.92 BLL level if a high volume breakout above the rectangle pattern ensues. On the other hand, bearish traders will probably look to the $76.93 level if the price breaks below the consolidation pattern on high volumes.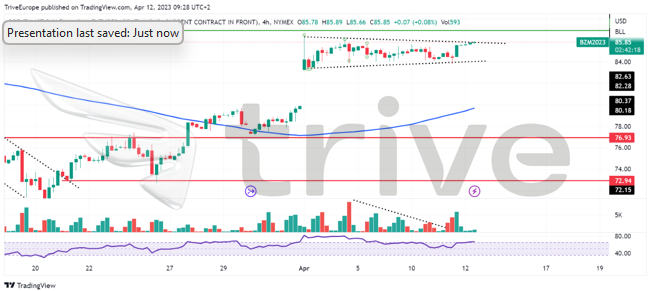 Summary
Traders will have their eyes glued to today's U.S. CPI Data, for cues on the likely interest rate direction, along with the EIA Inventory count, which will determine the demand and supply dynamics within the oil market. Traders can expect more with monthly reports from OPEC and the International Energy Agency due on Thursday and Friday, respectively.
Sources: American Petroleum Institute (API), EIA, Reuters, TradingView