Traders of the AUDUSD currency pair have been left looking for direction after a mixed week in trading following some key data releases. The AUD was among the masses who suffered after the resilient US employment data gave the dollar some unbearable strength. However, after a 25bps rate hike and signals of further rate hikes, the AUD strengthened slightly on Tuesday and will now be looking for further strength to recover from its recent drop.
The Aussies saw their trade surplus ease in line with expectations on Tuesday to AUD 12,24Bn, leaving traders uncertain about the directional price action for the AUDUSD. Their unemployment rate remains at extremely low levels, and with trade relations between China and Australia seemingly improving, signs are pointing to a strong economy. However, Jerome Powell spoke yesterday, assuring traders that the process of disinflation in the US is underway, but more rate hikes are likely to follow in the upcoming months. The AUDUSD saw a slight rebound as the market took these comments as less hawkish, opening a potential runway for the Aussie. Now, the focus turns to the US CPI and Australian unemployment data to be released next week to indicate the future directional trend for the currency pair.
Technical
After the US dollar surged following the release of their employment data, the AUD bounced back following the 25bps rise in their interest rate, with the reserve bank also hinting at more rate hikes to come. The currency pair is currently trading at US$0,6969. If the price manages to test support at US$0,7000, it could indicate the reversal of the downward trend and invite the bulls to push the price up to an estimated target price of US$0,7042. However, if support holds, a retracement into the current range could occur as the market awaits further cues. A fall down to US$0,6949 could signal another downside if the bears push the price through resistance, bringing the estimated target price of US$0,6886 into the traders' minds. If resistance does hold, consolidation may form again.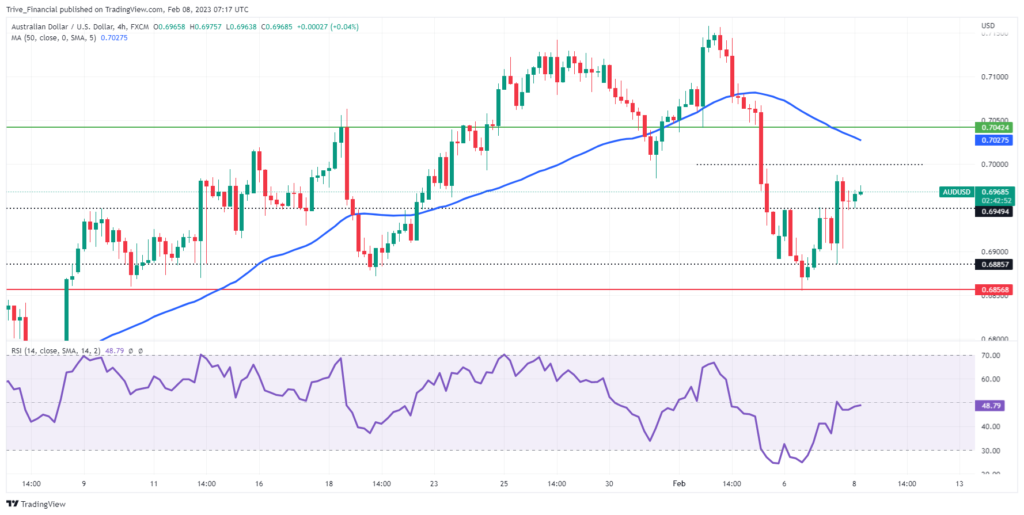 Summary
The AUDUSD is currently hanging in the balance, with traders awaiting key data announcements next week to indicate the direction of both economies. We could see some uncertain consolidation in the next few days as next week will provide essential information that could spark a directional price change in either direction. Traders may await further cues from the market before any significant moves occur again.
Sources: Koyfin, Tradingview, Reuters