Warren Buffet famously said that a ham sandwich could run The Coca-Cola Company (NYSE: KO). Referring to the exceptionally strong product, business and brand, investors flew in to get their fair share of the beverage giant's returns. Now, years later, in entirely different macroeconomic circumstances, the optimism surrounding the company may be fizzling out, as the share price slipped on Tuesday despite reporting strong quarterly earnings.
Revenues for the quarter amounted to $10,1Bn, up 7% from the same quarter last year and beating estimates by $180M. Earnings were in line with forecasts at $0,45 per share, while organic sales blew estimates out of the park with 15% growth to the 11% consensus. These earnings were accompanied by a positive outlook for 2023, hinting at 7%-8% organic revenue growth and 4%-5% growth in EPS. However, the market did not share the positive sentiment, as they sent the share price down to $59,59.
Technical
The company's share price failed to produce meaningful upside to investors early in the year, with the share price heavily underperforming the general market. The long-term trend shows lower highs forming, with harsh macroeconomic conditions straining the growth prospects of the beverage company. It is possible for the share price to now look for support after the recent contraction at $58,98. If the market provides support, it could retrace and start converging back. The first resistance level, in this case, may be around $61,44, where a breakthrough above that could provide the bullish momentum needed to reach an estimated fair value of $63,03. However, if the market fails to provide support, the longer-term downward trend may persist, potentially seeking support at $57,62 and $54,92.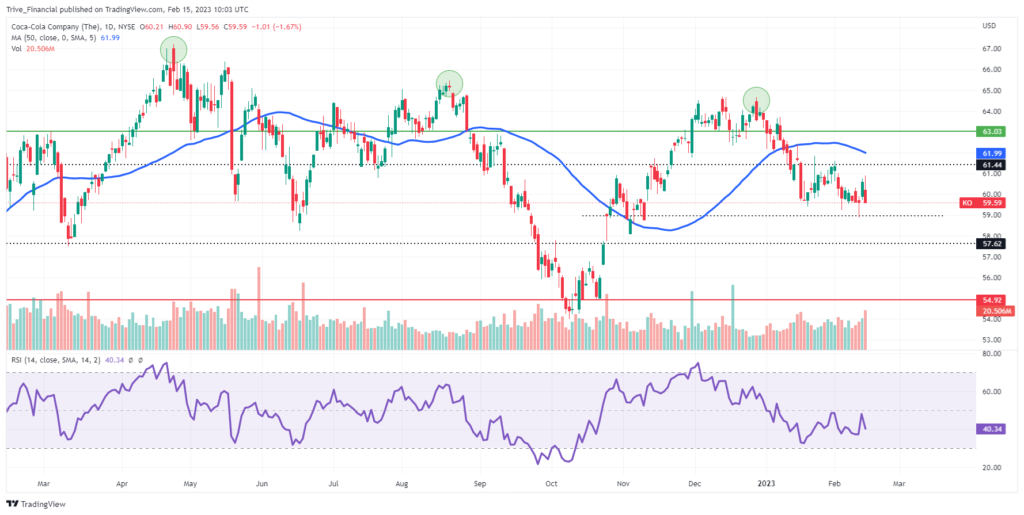 Fundamental
The share price of Coca-Cola has heavily underperformed the S&P 500 in the last ten years, shown in the graph below.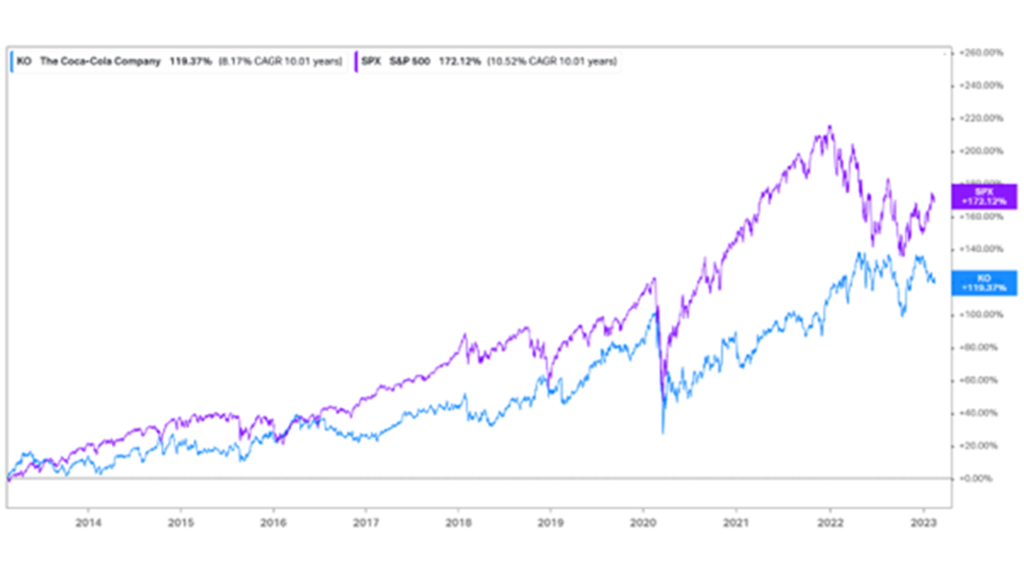 With P/E valuations of 26,1X, there is concern around whether investors are getting sufficiently compensated for this share that is also trading at really high valuations. However, investors in this company are not necessarily focused on share price performance, as the healthy dividend payouts attract them into buying. The company operates with a 79,82% dividend payout ratio that has consistently increased over the years. The sustainability of these dividend payouts does need to be considered, as the company still needs to grow their earnings at a rate high enough to support them. The number of shares outstanding for Coca-Cola has been on the rise, and the higher dividend payouts are supported by the fact that they have yet to compensate their investors in the form of share buybacks. Cash from operations declined by 13% in 2022, while diluted earnings per share contracted by 2,67%. EBITDA and net income margins contracted to 28,3% and 22,2%, respectively. On the other hand, their payout ratio went up to 79,8% from 74,2% in 2021.
Their revenue growth in the latest quarter does, however, show their ability to retain demand for their products in the wake of inflationary pressures that have pushed their prices up. Further price increases are expected to persist in the upcoming year for their products as they continue to experience commodity price inflation headwinds. The company's management stated that demand for their products is not deteriorating due to these price hikes, but with competitors like PepsiCo indicating that their price hikes may subside this year, they may need to reassess their outlook to preserve market share.
However, Coca-Cola has exciting new initiatives that may drive future earnings growth and build on its large revenue base. Their integration into the alcohol and coffee market opens doors for expansion into new segments and alternative sources of revenue, led by Jack & Coke products that may get distributed later this year. Investors will keep an eye on this integration, as Coca-Cola need to show signs of higher earnings growth to support their healthy dividend payouts and prevent investors from evading the risk in search of other less risky opportunities that may provide them with more meaningful returns.
Summary
The Coca-Cola Company is known for its dividend-paying ability and for compensating its investors through healthy payout ratios to compensate for its share price's underperformance. However, they may need to turn new initiatives and integrations over into meaningful earnings growth to ensure the sustainability of these payouts. If they manage to do this, there is a potential long entry for a long-term investor at $58,98, with a possible 7% price appreciation upside to $63,03.
Sources: Koyfin, Tradingview, Yahoo Finance, The Coca-Cola Company