BMW's share price rally stopped short of 2015 highs as the company missed quarterly earnings by 10.18%.
Following in Volkswagen's footsteps, BMW has committed to accelerating its development in the Electric Vehicle industry as part of its high profitability goal for the year. BMW doubled sales of electric vehicles in 2022, representing the strong growth momentum of the industry. According to S&P Global Mobility estimates, sales of electric vehicles surged 36% last year, presenting a brilliant market for BMW to build upon its current establishment.
Earnings Before Interest, Tax, Depreciation and Amortization (EBITDA) Margin measures a company's operating profit as a percentage of sales and is a key metric in measuring a company's operating efficiency.
This metric reflects how much operating cash is generated for each Euro of revenue earned. Among Europe's Big three automotive manufacturers, BMW earns the most in operating cash per Euro generated in revenue, with a 15.82% EBITDA margin, compared to 14.20% and 12.71% in Mercedes Benz and VW, respectively. BMW's EBITDA margin has remained relatively stable compared to its counterparts and could potentially be an indication of BMW's strength in operational efficiency and cash generation.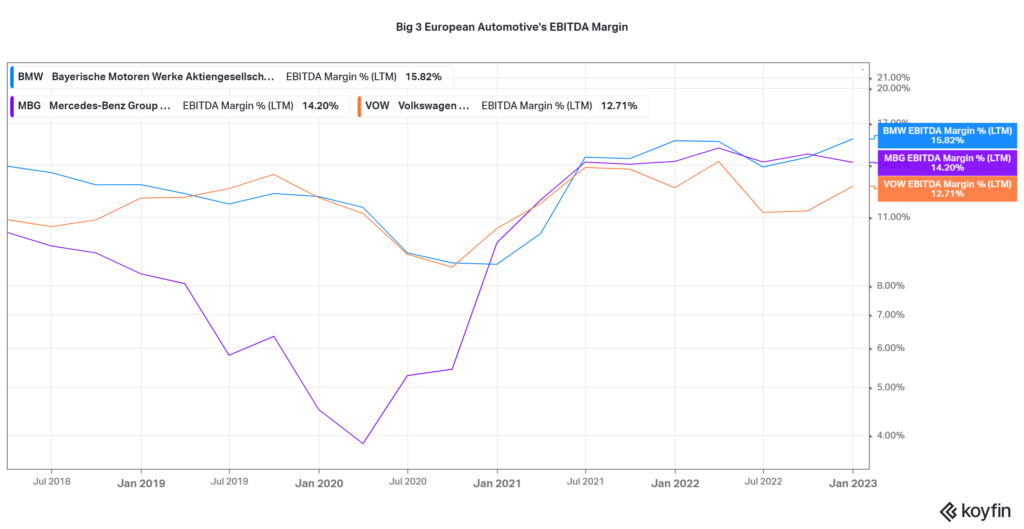 Technical
BMW's share price has traded in an upward trajectory since the third quarter of 2022. The uptrend formed an ascending channel with support and resistance at the €89.50 and €105.00 per share level, respectively.
Following a rejection of resistance, downside momentum picked up, sending the share price lower toward support at the €89.50 per share level. With bears currently in the driver's seat, BMW's share price will likely reach the €89.50 level, earmarked as a take-profit level for bearish investors, if a breakout below the 61.80% Fibonacci Retracement Golden ratio at the €95.39 per share level ensues.
Buyers will look to either the 61.80% Fibonacci Retracement Golden ratio at the €95.39 per share level or support at the €89.50 per share level for entry opportunities if downside volumes begin to decline as the price approaches the levels. This could indicate the lack of bearish interest and entice bullish investors into the market. Bullish investors will likely aim for the €105.00 per share level to exit if the share price moves higher.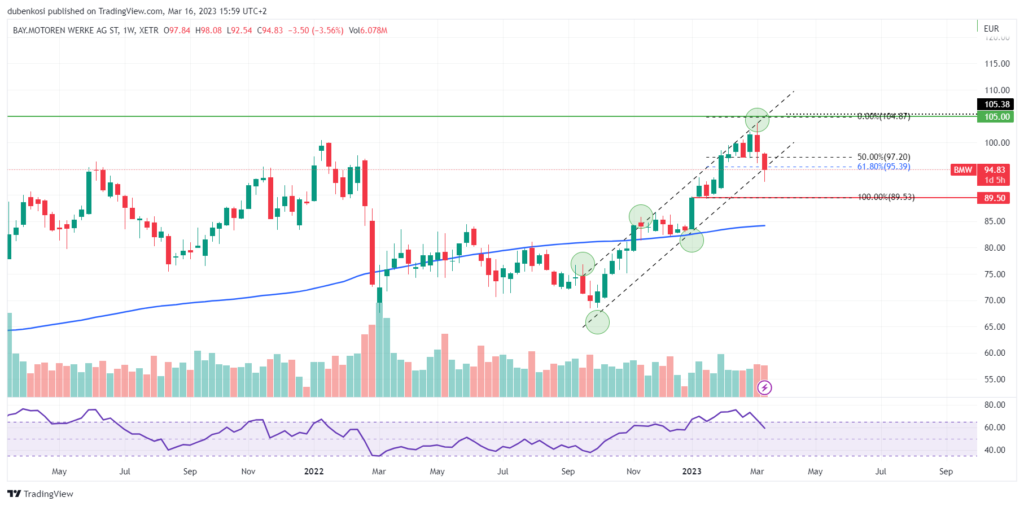 Fundamental
BMW delivered 5% fewer vehicles in 2022 due to supply chain constraints arising from the Russia-Ukraine war and repeated Covid-19 lockdowns in China. The BMW and Mini segments suffered the most, with a 5% and 3% decline in deliveries, respectively. Deliveries of the Luxury Brand division, Rolls Royce, improved, with an 8% surge in deliveries to 6,021 units worldwide.
Despite delivering fewer vehicles, BMW's overall performance for 2022 improved significantly. Revenues and net income skyrocket yearly, with a 27% and 49% gain over 2021, respectively. Revenues were up to €142.6B, while net income surged to €18.5B for 2022, with the Automotive segment contributing the most to the improved performance. Revenues were nudged higher by an improvement in the Financial Services Segment, which saw revenues surge 7% year-on-year.
BMW has forecast an upbeat 2023, with sales of luxury vehicles such as the 7-Series and Rolls-Royce models set to grow in the mid-double digits percentage. BMW announced that sales of electric vehicles will likely account for 15% of total deliveries in 2023, up from 9%, further contributing to the upbeat top-line expectation.
In addition, BMW forecasts an 8% to 10% margin for its autos segment in 2023, up from last year's 7% to 9% target, and will likely feed into profitability if achieved.
After discounting for future cash flows, BMW's fair value was derived and stands at the €105.28 per share level. The share price currently trades at a 10.16% discount to fair value, leaving significant room for growth.
Summary
Given BMW's commitment to investing in the future of automotives, electric vehicles, the company is in a sound position to take advantage of the growth opportunities the industry will present going forward. BMW's share price will likely experience upside price action if sales and earnings remain stable to incremental.
Sources: BMW, Reuters, Times, TradingView, Koyfin