Backdropped by a weakening U.S. economy and slowing Chinese manufacturing, WTI Crude Oil Futures (NYMEX: CL) fell under the spell of bearish traders as growing fears of crude oil demand waning took precedence.
The WTI Crude Oil Futures plunged 9.71% week-to-date and is set for a third straight week closing in the red. The U.S. banking fallout has restored fears of the possibility of a recession occurring, while China's manufacturing activities took a surprise downturn. Therefore, the crude oil demand outlook has been questioned, and traders have expressed their fears on the market.
Technical
The WTI Crude Oil Futures have been heavily subdued, leading to the recent uptrend rolling over into a downtrend with price breaking below the 100-day moving average. Support and resistance are now located at the $65.76 and $76.90 per barrel (BLL) levels, respectively.
The sharp downturn in the WTI Crude Oil Futures was met with strong support, which the price rejected, printing a bullish hammer candlestick. The rejection of support was accompanied by a period of sideway consolidation, forming a rectangle pattern. With a firm rejection of the downside and RSI conditions pointing to oversold levels, the CL could reverse. A high volume breakout above the rectangle pattern could mean the bulls have won market influence and send the price higher with the $76.90 BLL level in sight.
Alternatively, if bearish traders intend to press on, a high volume breakdown below the rectangle pattern could validate a move lower, with the $65.76 BLL level a possible point of interest for a bear case.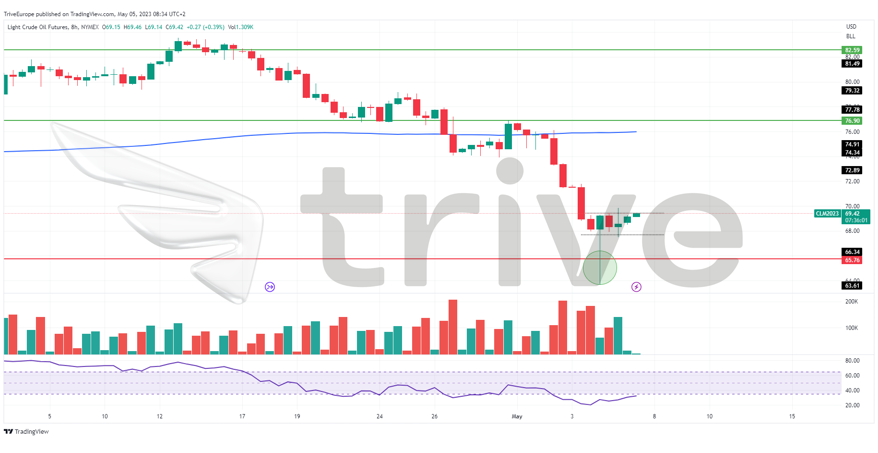 Summary
Recessionary fears are likely to weigh down on the WTI Crude Oil Futures, now compounded by the 25 basis point rate hike by the Federal Reserve, which is set to slow the U.S. economy further. Traders will be eyeballing today's U.S. Non-Farm Payrolls to determine the health of the labour market, one of the main drivers of inflation. If the NFPs come in well above consensus, it could mean more doom for the commodity.
Sources: Reuters, TradingView