The WTI Crude Oil Futures (NYMEX: CL) gained a whopping 7.67% from the week's lows. Despite being far off from the highs, bullish traders re-entered the market with hopes that the banking sector is somewhat over the worst.
Rescue efforts from the Swiss National Bank, UBS and U.S. Authorities proved fruitful as calm was restored in a market full of volatile sellers. Traders now anticipate the U.S. Interest Rate Decision ahead as they navigate through a mix of inflation and banking sector worries which are on the opposite sides of the spectrum regarding interest rates. On the one hand, inflation requires a higher interest rate to slow it, while the banking sector requires a pause or dovishness to survive the turbulent market stress of loss-making fixed-income portfolios.
Technical
Following a sharp selloff, the WTI Crude Oil Future gained upside momentum with a breakout above the descending channel's resistance but remained in a broader downtrend below the 100-day moving average. Support and resistance were established at the $65.76 and $69.78 per barrel (BLL) levels, respectively.
With the price consolidating sideways near resistance, bulls and bears are in contention over where the price should go next. A breakout above the $69.78 BLL level on high volumes could signal bullish momentum peaking to take the price higher. Bulls will likely look to the $72.70 BLL level with interest if they commit to higher prices.
Alternatively, a breakout below the support level of the consolidation pattern at the $68.96 BLL level could prompt a further leg down. Bears will likely aim for support at the $65.76 BLL level as a probable take-profit zone.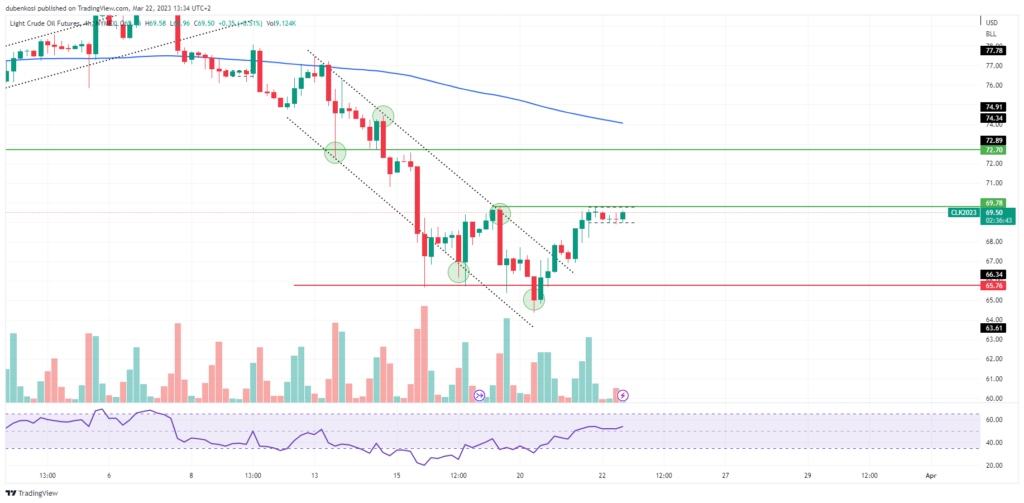 Summary
According to the American Petroleum Institute (API), crude oil inventories surged to 3.262M barrels, significantly above consensus, projected to be in negative territory. This could be a precursor for the U.S. Energy Information Administration inventory count. If inventory comes out higher than expected, it could signal the lack of demand and potentially weigh down on oil prices, making the $65.76 level probable.
Sources: Reuters, TradingView