U.K. inflation landed at the 10.4% mark for February, up from 10.1% a year earlier, while month-on-month inflation picked up steam, landing 0.5% above consensus. The Pound strengthened its grip on the Euro, with the EURGBP currency pair giving up 0.83% after the Bank of England raised rates by 25 basis points.

The EURGBP will likely face less friction to the downside as the Pound is bolstered by rate hike expectations on the back of the U.K.'s sticky inflation. However, the Euro could be supported by the European Central Bank fully committed to bringing inflation down.

Technical
Price action broke out above the descending channel pattern to commence an uptrend earlier this week. Support and resistance are located at the 0.87795 and 0.88595 levels, respectively.

Bulls are likely to be lured into buying the pair at a discount with price currently trading at support. Bulls will likely aim for the 0.88595 level if they commit to the upside.
Alternatively, if bears are discontent with their downside progress, a breakout below the 0.87795 level could signal their appetite to lower the pair. Bearish traders will likely be interested in the 0.87307 level as a take-profit level.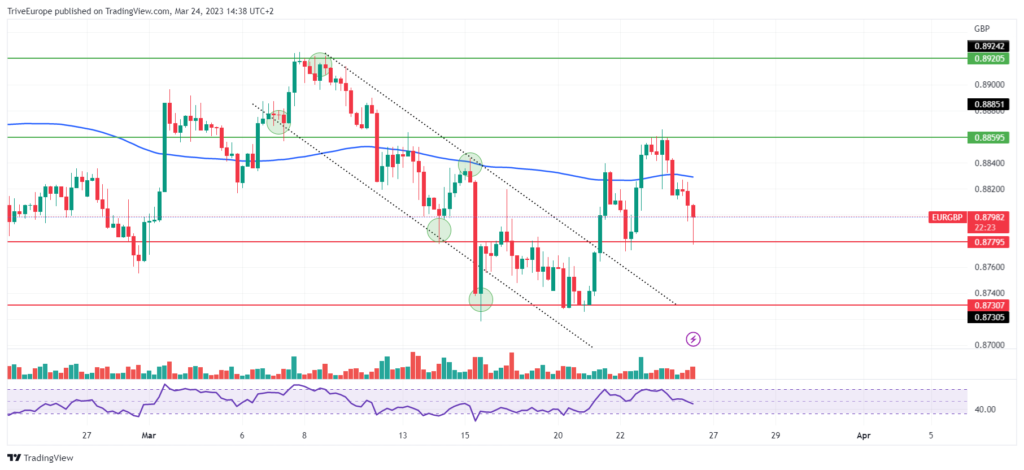 Summary
The 0.87795 level will play a pivotal role in defining market sentiment. A breakout below could prompt further downside price action, with the 0.87307 level probable. However, if the pair is supported at the 0.87795 level, bulls could take the pair higher toward 0.88595.
Sources: Reuters, TradingView