The EURUSD currency pair closed off the prior week relatively flat in a jampacked week of economic events. Vital economic releases induced high volatility on the pair, leading to a whipsaw in price action.
The European Central Bank (ECB) and Federal Reserve matched each other with a 25 basis point rate hike to stave off sticky inflation. At the same time, the U.S. Labour Market exhibited resilience with a robust U.S. Non-Farm Payroll sending recessionary fears out the window temporarily.
Traders will closely monitor this week's U.S. Labour Market Reports and inflation readings in both regions to determine if talk of a potential recession is hollow or sincere.
Technical
The EURUSD currency pair's uptrend has remained intact, with price trading above its 100-day moving average. However, the uptrend has stalled as bulls and bears are in balance, with price trading in a sideway consolidation forming a rectangle pattern. Support and resistance are located at the 1.09094 and 1.10935 levels, respectively, while the 61.80% Fibonacci Retracement Golden Ratio serves as a support level within the consolidation range.
With bulls in control, price action could be directed toward resistance at 1.10935 before bearish traders find interest in selling the pair at a premium. If bearish traders amass at resistance, a reversal is probable, leaving 1.09793 at the Golden Ratio level likely. Alternatively, if bullish traders defy resistance, a high volume breakout above the level could indicate a leg-up imminent. The 1.11851 level could be a probable level of interest in a bull case.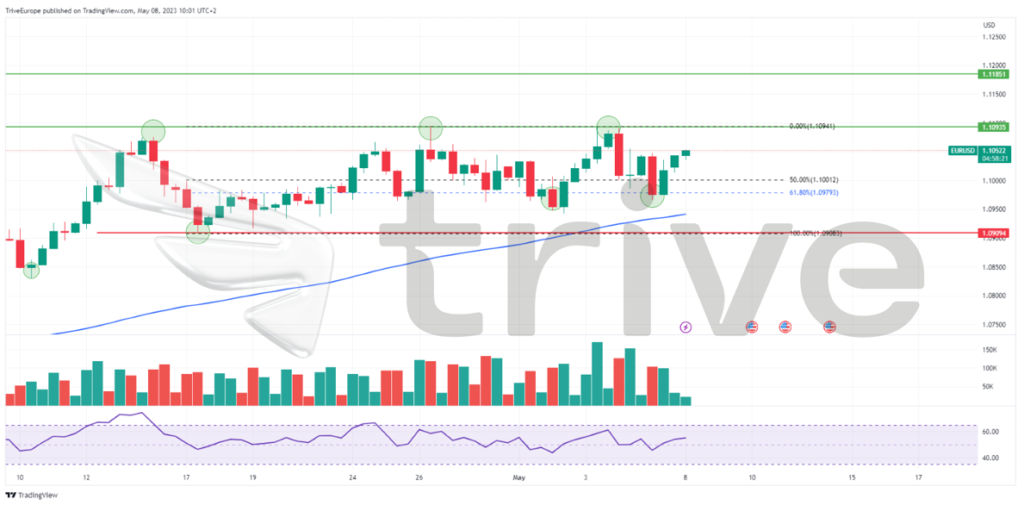 Summary
Traders are now wagering a 91.5% chance of the Federal Reserve pausing rates in the upcoming June meeting, with growing expectations of an ease as soon as July. The EURUSD currency pair will likely find less friction to the upside if the Federal Reserve and ECB interest rate policies diverge, given the ECB's commitment to fighting off inflation. A break above the 1.10935 level could validate further upside price action.
Sources: CME FedWatch Tool, Reuters, TradingView