S&P500 futures' (CME: ES) bears electrified their activity, causing a selloff that lowered the index by 2% from Thursday's highs. Bears found a home in hawkish sentiments that were reinforced following the release of higher-than-expected producer inflation and consumer spending reports.
S&P500 futures were weighed down as greater odds were placed on the Federal Reserve hiking rates to fight off inflation.
Technical
S&P500 futures have traded in a sideway consolidation represented by the formation of a rectangle pattern. Support and resistance formed at the 4061.75 and 4168.50 levels, respectively.
Following the selloff from resistance, price bounced off the support level as bulls found interest and participated in the market. If bulls maintain their current momentum, the price will likely reach the 4168.50 level to perpetuate the consolidation.
However, with fundamentals pointing to the downside, and upside volumes declining, bears will likely drag the market lower toward support at the 4061.75 level with a breakout below probable. If a breakout below the 4061.75 level occurs on high volumes, the next level of interest is the 4012.25 level.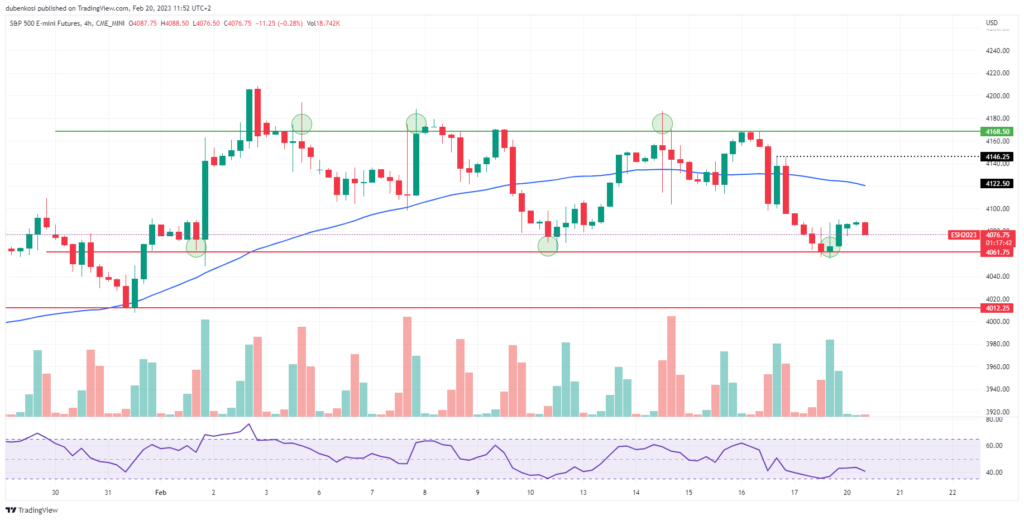 Summary
S&P500 futures will likely be under duress of high inflation and interest rates thereof. A breakout below the 4061.75 level could validate downside price action and bring the index in line with a potential recessionary phase in 2023.
Sources: Reuters, TradingView