S&P500 futures (CME: ES) have taken a 0.63% hit ahead of the release of the PCE Index, the Federal Reserve's (Fed) preferred inflation gauge. Traders will look to the PCE Index for signs of inflationary developments and the likely response by the Fed.
The Fed reiterated its commitment to fighting inflation by keeping rates higher for longer. Higher rates tend to dampen the S&P500 component's valuations as borrowing costs rise and bonds become attractive for their higher yields.
Technical
The S&P500 futures have been in a downtrend supported by strong momentum. Lows have been broken repeatedly, with the most recent victim being the 4012.25 support level which now acts as resistance. The next support level sits at the 3972.00 level.
With bears currently in the driver's seat, price will probably be driven towards support at the 3972.00 level with minimal friction. However, if bulls find interest in buying low, price will likely be uplifted toward the 4012.25 level before supply and demand dynamics are reassessed.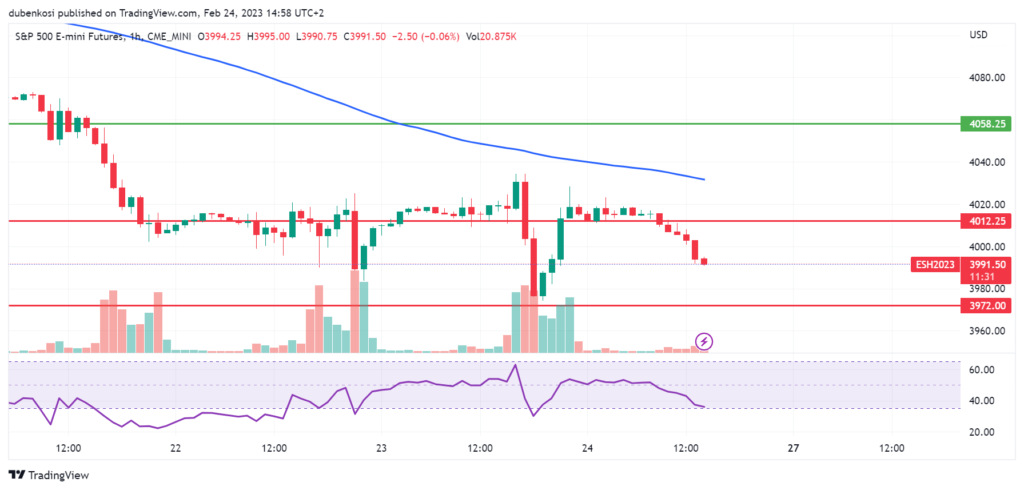 Summary
The release of the PCE Index is vital to the short-term price action. The 3972.00 level will likely be feasible if inflation fails to back down from its high levels, prompting a further 25 basis point hike by the Fed.
Sources: Reuters, TradingView