The NASDAQ100 Futures (CME: NQ) are under the spell of bullish traders as the banking sector crisis fizzled out, bringing risk appetite back into the frame. The NASDAQ100 Futures comfortably surpassed a 28-week high after bulls added 1.65% for the current week.
Key economic indicators, including the U.S. Labor Market reports and the PCE Index, the Federal Reserve's preferred gauge of inflation, were released this week. The labour market was relatively soft, with jobless claims picking up steam, while the PCE Index lowered slightly on a monthly and yearly basis. With the U.S. Economy showing signs of inflation cooling off, traders are pricing in a 42.2% chance of a pause in the next FOMC meeting, likely providing the NASDAQ100 Futures with an edge to the upside if realized.
Technical
The NASDAQ100 Futures are in a firm uptrend, trading well above the 100-day moving average. Support and resistance were established at the 12637.75 and 13078.25 levels, respectively.
With bullish traders in the clear, the price is testing the resistance level as the market participants decide their next play. If bullish traders win over the market, price action could be led north, with the next level of significance likely at the 13228.25 level.
Alternatively, if bearish traders are attracted to the downside, price action could move lower if supported by volumes, with the 12637.75 level earmarked as a probable level of interest.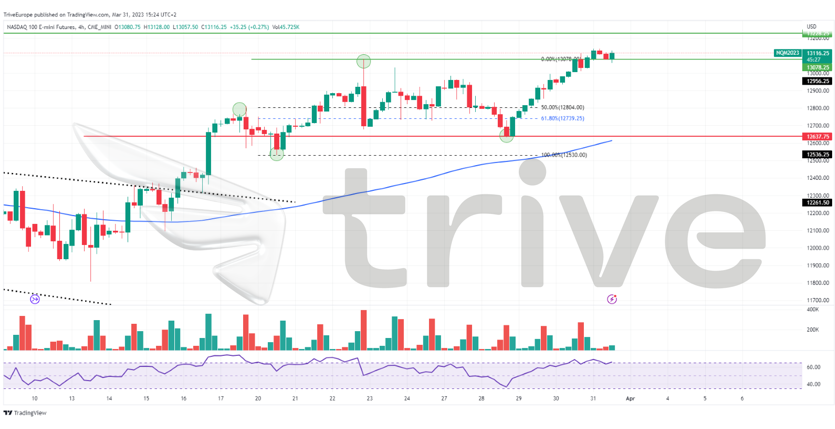 Summary
Risk assets, such as the NASDAQ100 Futures, are likely to experience upside momentum in the face of declining inflation and higher expectations of a pause or cut in interest rates in the near future. The 13228.25 level is probable if bullish momentum does not run out of steam.
Sources: Reuters, TradingView