IBEX 35 bulls regained control of the index after pushing it higher by 1% to open the week. The short rally was driven by anticipation of slowing inflation in the US year on year, with forecasts set at 6.2% compared to 6.5% a year prior. Traders will be glued to today's inflation data to gain a sense of the Federal Reserve's policy outlook.
Technicals
IBEX 35 stalled its uptrend as bearish traders entered the market on the back of a strong US jobs report and a surge in US Treasury Yields during the latter part of last week. The Federal Reserve's hawkish comments added fuel to the bearish momentum, and price was pushed down towards support at the 9076.60 level from the resistance level at 9278.83.
Traders will look to today's US Inflation data for guidance on the Federal Reserve's next step. If inflation data comes in hotter than expected, hawkish sentiments will likely direct the market to the downside, with the 9076.60 level a potential level of interest for bearish traders.
Alternatively, bullish momentum will likely drive the market higher if inflation data comes in weaker than expected as bulls look to the resistance level at 9278.83 with interest.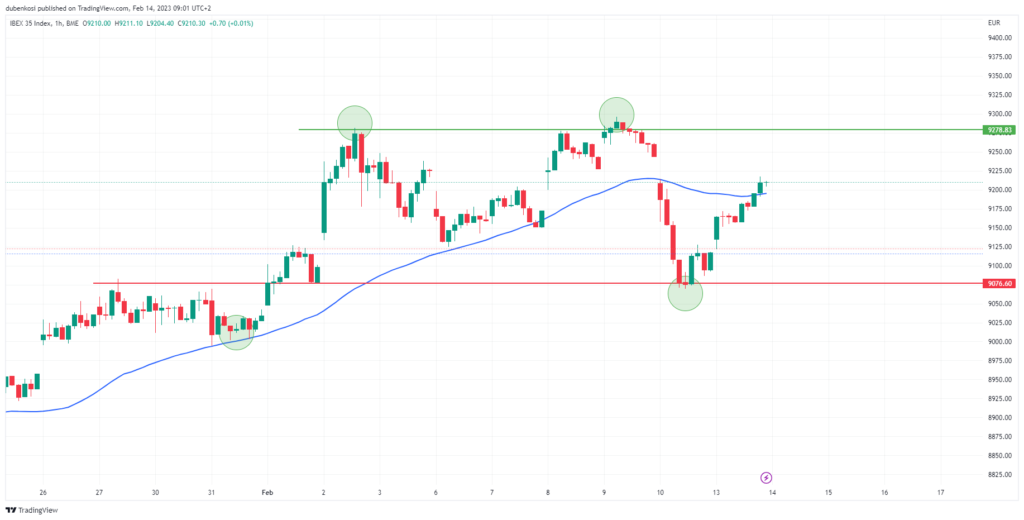 Summary
US Inflation data is more likely to have a stronger bearing on the markets as traders look to the largest economy in the world for guidance. In addition, Spain's CPI data, set to be released on Wednesday, may provide some intermediate price action if changes are significantly beyond consensus. Higher inflation levels are likely to lower the index as hawkish sentiments leap in faith.
Sources: Reuters, TradingView