Traders are presently reassessing their market positioning and sentiment in the FTSE100 (LSE: UKX) after the U.K. reported double-digit inflation of 10.1% against an expected moderation of 9.8%. Despite being lower month-on-month by 30 basis points, the steep inflation reading will extend the Bank of England's headache while chipping away at the risk-on sentiment that had built up in the past weeks.
Traders will now focus on the key economic events for the remainder of the week, with the U.K.'s Retail Sales and PMIs lined up. Any signs of economic strength in the U.K. could further compound expectations of the Bank of England hiking rates in its May meeting, weighing down on the outlook of the FTSE100.
Technical
The FTSE100 took a sharp turn higher from its yearly low in the prior month to form a steep uptrend. Support and resistance were established at the 7203.50 and 7947.00 levels, respectively. The uptrend stalled, leaving price trading in a sideway consolidation, forming a rectangle pattern as bulls and bears battle for supremacy.
A convincing breakout to either side of the consolidation pattern could lead the price further in the direction of the breakout. A breakout below the consolidation pattern will have bears looking to support at 7203.50 as a probable target, while a breakout above the pattern could see bears aiming for resistance at the 7947.00 level.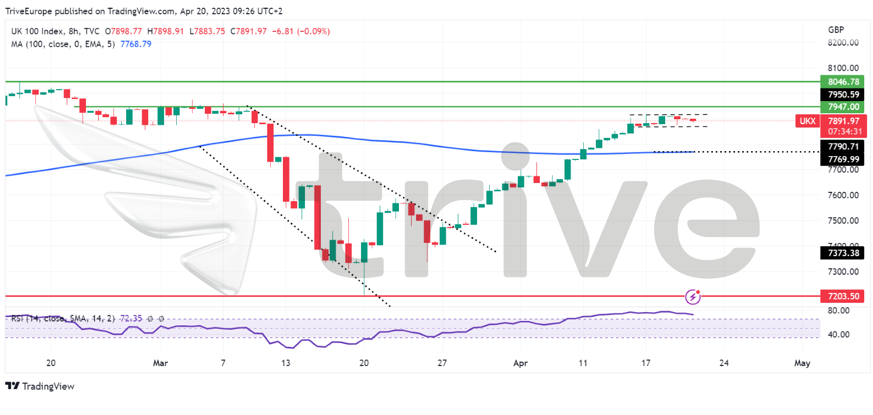 Summary
The Bank of England will likely maintain a hostile stance towards inflation, with further interest rate hikes probable and around the corner. Traders now foresee a 98.2% chance of the Bank of England hiking rates by 25 basis points. Equity valuations will be under pressure as borrowing costs remain elevated while growth prospects are limited by expensive capital, leaving the 7790.71 level at the 100-day moving average within reach.
Sources: Reuters, TradingView