The FTSE 100 (LSE: UKX) let go of its all-time high as growing fears of further rate hikes by the Bank of England (BOE) and the Federal Reserve (Fed) crept into the index.
On Tuesday, Britain released higher-than-expected Purchasing Managers Index (PMI) Reports which revealed a rebound in economic activity, against the wishes of the Bank of England. Halfway across the world, a 25 basis point rate hike is firmly bet on in the U.S. It is likely that the FTSE 100 will experience downside pressure as further rate hikes dampen company valuations while limiting growth prospects.
Technical
The FTSE 100's uptrend was slightly undone by a 1.45% decline in the index. Support and resistance were established at the 7853.47 and 8043.79 levels, respectively. Price was lowered to the 50% Fibonacci Retracement level at the 7880.29 level, luring bulls into the market.
Presently, downside price action is probable, with the 7853.47 level a point of interest for bears if price approaches the 50% Fibonacci Retracement level with conviction.
Alternatively, if bulls fight on, price will likely be driven towards the 8043.79 level before market sentiments are reassessed.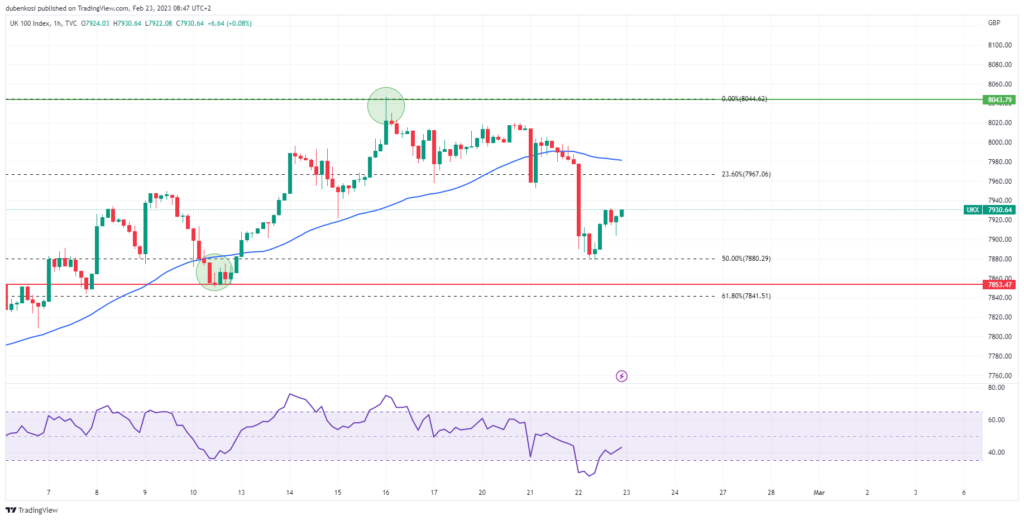 Summary
Hawkish sentiments will likely be the driving force of the market if the BOE and the Fed follow through with further interest rate hikes. The 7880.29 level will be pivotal as a breakout below could invalidate bullish sentiment.
Sources: Reuters, TradingView