The EURUSD currency pair has seen vigorous bullish activity take it over week-to-date after gaining 1% and powering through a level of significance. The Greenback lost ground on the back of signs of a cooling U.S. economy.
The ISM Manufacturing PMI for February came in near a three-year low at 46.3. All subcomponents of its Manufacturing PMI hovered below the 50 threshold for the first time in over a decade, outside the COVID-19 pandemic slump. The Labour Department's JOLTS report on job openings experienced a sharp decline compared with consensus to land at its lowest level in nearly two years.
Economists view the decline in economic activity as a sign of a probable recession ahead, while traders are now wagering a higher chance of the Federal Reserve pausing interest rate hikes.
Technical
The EURUSD currency pair has been in a firm uptrend, with the price hovering above its 100-day moving average in an ascending channel pattern. Support has been established at the 1.09211 level following a rejection of the 61.80% Fibonacci Retracement Golden Ratio and a high volume breakout above the 1.09211 level. Resistance is currently at the 1.10295 level, and bullish traders will likely look to test the level.
If bullish traders march forward, the 1.10295 level will likely be the next level of interest or take profit. If volumes to the downside are regressive, it could indicate the absence of bearish participants, validating a potential move higher.
Alternatively, if bears look to enter the market, a retracement to support at the 1.09211 level is probable, considering RSI conditions are pointing towards overbought levels.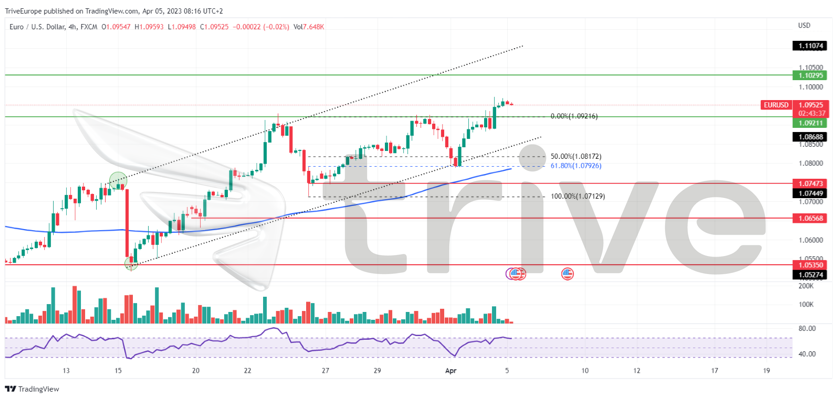 Summary
Traders will have their eyes set on the Euro Area and U.S. Services PMI, along with the highlight of the week, the Non-Farm Payrolls. If the U.S. economy and labour market point to weakness, the Greenback could be weighed down, leaving the 1.10295 level probable.
Sources: The Institute for Supply Management, Reuters, TradingView