Risk assets gained favour at the week's open following calm restored in the banking sector as big global banks and authorities coordinated to ring-fence banks with their backs against the wall. The Greenback hovered at a five-week low against the Euro as the EURUSD currency pair recovered all of last week's losses. Traders are seemingly calming, and volatility is declining after the banking crisis peaked with Credit Suisse's demise.
Traders will be zeroed in on the U.S. Interest Rate decision later today as they determine whether a hike or pause is implemented in response to sticky inflation or to protect the banking sector from further issues. According to the CME FedWatch Tool, the markets are pricing in an 88% chance of a 25 basis point rate hike by the Federal Reserve.
Technical
Following a sharp selloff in the prior week, the EURUSD currency pair entered an uptrend after breaking above the 100-day moving average. The bullish trend led to a high volume breakout above resistance, which now forms support at the 1.07577 level, while resistance at the 1.08020 remains untested.
If bullish traders march forward, the pair will likely be aimed for resistance at the 1.08020 level. A sustained move higher could be validated by a breakout above the psychological level. The next probable level of interest would be the high at the 1.09318 level.
Alternatively, a breakout below support at the 1.07577 level on high volumes could lead to a retracement. Bears will likely look to the 61.80% Fibonacci Retracement Golden Ratio at the 1.07067 level as a take-profit level if the currency pair finds downside momentum.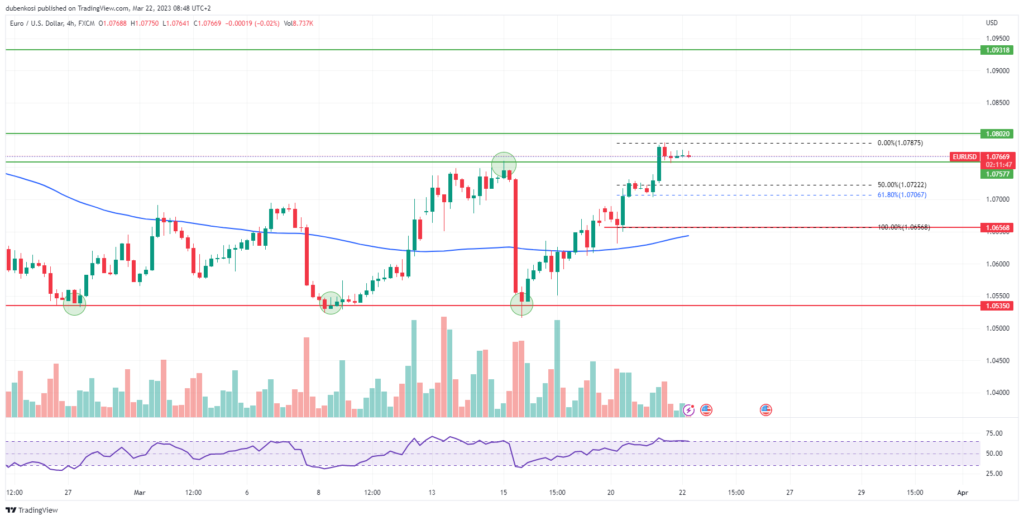 Summary
The driving force of today's price action will likely be the U.S. Interest Rate Decision. If a 25 basis point rate hike is implemented, the EURUSD could face some downside pressure as risk assets backslide on the strength gained in higher-yielding safe-haven assets such as the Greenback and U.S. Treasury Bonds. The 1.07067 level is probable if downside momentum picks up on the back of a rate hike.
Sources: Reuters, TradingView