The EURUSD currency pair gained 0.5%, week-to-date, as bulls recovered some of the pair's losses from the prior week.
Bulls gained confidence on the back of sticky inflation in France and Spain, forming part of the overall Eurozone inflation picture, and a weak U.S. consumer confidence report that signalled sombre consumer spending ahead. Euro holders turned hawkish as a result, strengthening the pair at the cost of the greenback.
Technical
The EURUSD's downtrend is under threat following bullish price action, which jolted the price up from support at the 1.05331 level towards resistance at the 1.06322 level.
Following a rejection of resistance, price retraced to the 61.80% Fibonacci Retracement Golden Ratio at the 1.05721 level before bouncing from the level. If bulls continue to drive the market higher, the next potential area of interest will be the 1.06322 level.
Alternatively, if bears look to financial theory and sell high, a decline in volume to the upside could signal a probable reversal. Bears will look to the 1.05721 level with interest if they participate.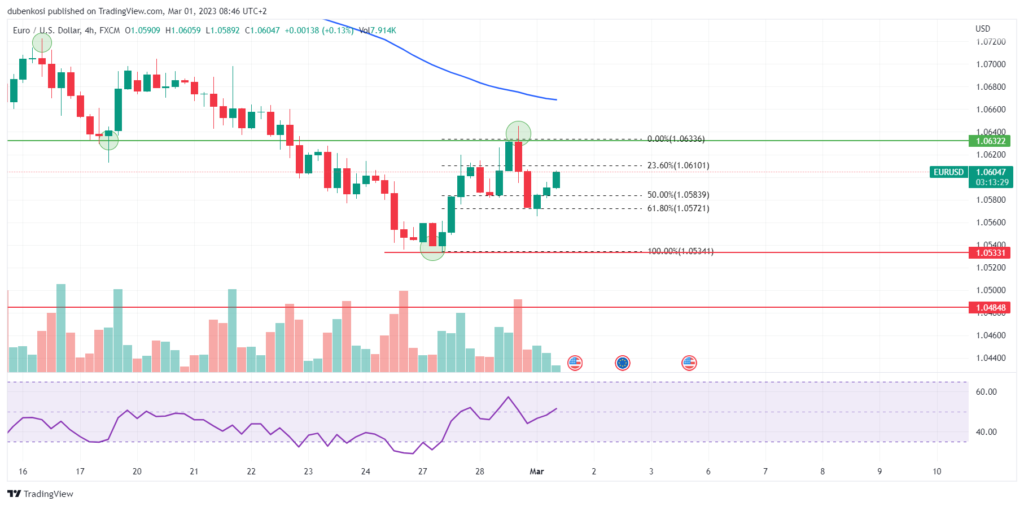 Summary
Traders will turn to the Eurozone PMI and German inflation rate later today for indications of the Eurozone economic activity and inflation in the largest economy in Europe. If both economic releases point upward, the EURUSD will likely find more ease moving to the upside, with the 1.06322 level pivotal.
Sources: Bureau of Economic Analysis, Reuters, TradingView