US market sentiment improved on Wednesday after Jerome Powell stuck to his disinflationary view. However, comments from US federal reserve officials did enough to burst the bubble of positivity by suggesting that it is unlikely for rate hikes to pause in the near term. The Nasdaq composite and S&P 500 fell 1,7% and 1,1% in Wednesday trading, while the Dow Jones futures (CBOT: YM) continued to tread sideways, ending the day down 0,6%.
The futures did receive some much-needed support in the form of a positive earnings win from Disney after-market on Wednesday. The stock soared 6% after the market, enabling the Dow Jones futures to recover some of its Wednesday losses. However, signals are still unclear on the state of the economy, with highly anticipated inflation figures potentially being the catalyst for directional change.
Technicals
A rectangle can be seen forming in the futures market as the market keeps treading with caution. Resistance is seen around the 34107 level as the bulls are not yet confident enough to push through for some meaningful upside. However, the bears are also not able to find momentum as the market is showing strong signs of support at 33660. The futures are trading close to the 50-day moving average, with the RSI not indicating directional momentum. If a breakout above 34107 occurs before the data release on Tuesday, the futures can retest the resistance. However, with support from potentially lower-than-consensus inflation, the bulls could push up and form some momentum towards the 34359 level. If inflation misses consensus, a breakout to the downside is possible as the market may anticipate more Fed hawkishness. A breakout below the 33660 level could force the futures to look for support at the 33355 level.
However, with initial jobless claim data on Thursday, traders may also look for a potential short-term trade within the rectangle pattern. If jobless claims come in higher than expected, a potential upswing to 34212 may be possible, whereas a lower-than-expected statistic could push the futures lower to 33989 and 33837.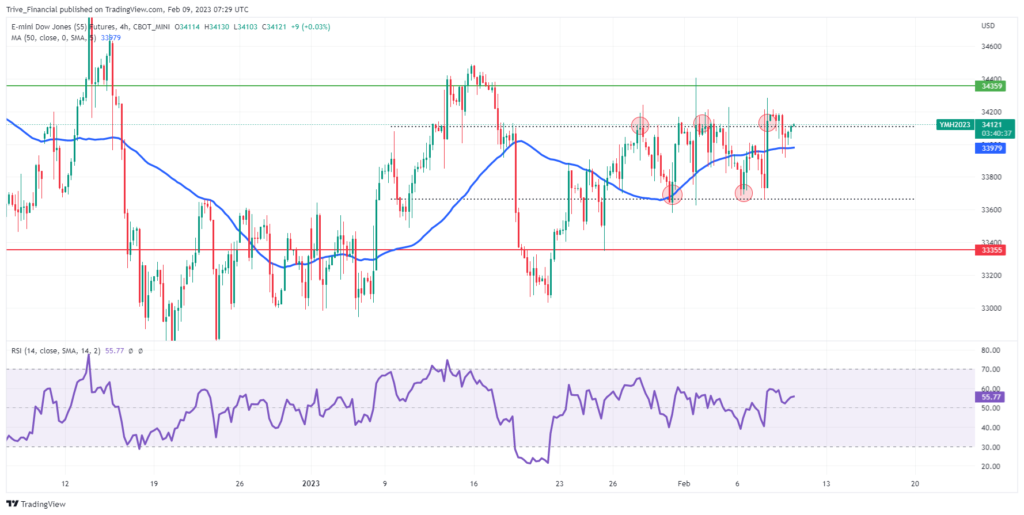 Summary
It is possible for any directional movement in the Dow Jones futures in the next couple of days to be retested ahead of the inflation report on Tuesday. Both the bulls and the bears in the market are awaiting confirmation of their views. The jobless claims report later today could also interest short-term traders within the consolidation rectangle as a higher-than-expected unemployed claim number may give the futures some upward momentum to 34212, with lower-than-expected numbers potentially pushing the futures down to support at 33989 and 33837.
Sources: Koyfin, TradingView, Investor's Business Daily