The Dow Jones futures (CBOT: YM) bulls fought back in Wednesday trading despite strong retail sales announcements expected to aid the downfall triggered by the CPI data released the day before. An up-and-down day of trading summarised the current state of the market, as traders want to be optimistic about growth, but a hawkish Fed continues to loom over the sentiment.
The Dow Jones futures trickled down after the retail sales announcement, but the bulls fought back, pushing up to a 0,1% gain in Wednesday trading. High inflation, a strong dollar and high treasury yields continue to pose headwinds and limit the upside potential for the futures in the near term future. However, strong performance from Caterpillar (NYSE: CAT), Cisco Systems (NASDAQ: CSCO), and The Walt Disney Company (NYSE: DIS) on Wednesday provided the necessary momentum for the futures to end the day in the green.
Technicals
Choppy markets persist for US equities as the Dow Jones futures continue to move upwards in a lateral direction. Currently, the futures are trading at the 34168 level. If the current trend continues, the futures may continue to push up to test the uptrend resistance at around 34373. A breakout above could provide the necessary confidence for the bulls to push further to the higher resistance at 34440. However, if the futures reverse and start edging down again, it may find support at 34044. If not, further downside may persist as the market may seek lower support at around 33885. The directional price action might be affected by the US jobless statistics, and the PPI report to be released later today. A strong labour market and high PPI statistics could spark a downside move. In contrast, the bulls will be searching for clues that the current monetary policy tightening is taking effect to prevent a more aggressive stance in the future.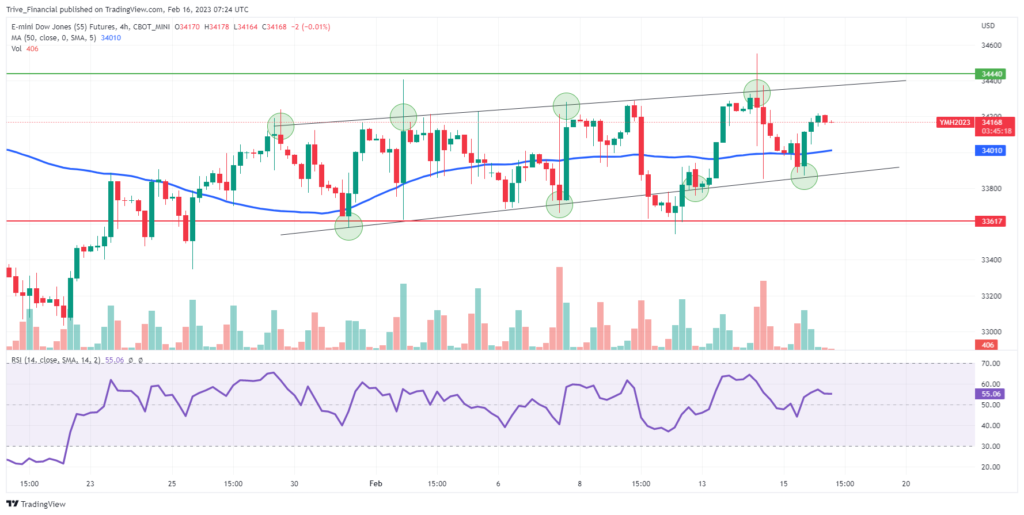 Summary
Robust labour statistics and higher PPI numbers may force a move down to test support at 34044 and 33885 in anticipation of higher interest rates. However, any signals that the economy is moderating may provide momentum to test upward resistance at 34373 for a further shift to higher resistance at 34440.
Sources: Reuters, Koyfin, TradingView