Tesla, Inc. (NASDAQ: TSLA) saw its share price drive up a monstrous hill, recovering miraculously from the heavy losses the automobile manufacturer suffered in 2022. Bullish momentum re-entered the sold-off shares after their latest earnings report sparked hopes that the growth management keeps promising might get realized. After a rapid surge in the share price, investors are left wondering what the fair value for this stock is as it enters a period of further economic uncertainty.
Revenue grew by 51% in 2022, doubling net income to $12,6 Bn. In the fourth quarter, the company recorded its highest-ever operating income, net income and revenue on a quarterly basis in the history of their company. With an outlook filled with promises of increased production and cost-reduction strategies, investors turned optimistic about the future of Tesla.
Technical
The RSI indicates that the stock is currently in overbought territory. However, while trading above the 50-day moving average, the bullish momentum is currently holding, pushing the stock up. It is currently trading at a level where the market showed resistance in the latter parts of last year. If the share price retraces from $194,76 to test the $182,36 support level, a potential inverse head and shoulders pattern may form if support holds, which could lead to a breakout to the upside. This breakout could test support at $204,27 before potentially converging further to an estimated fair value of $231,24. However, if investors react badly to the current macroeconomic situation or management does not deliver on their outlook in the year ahead, we could see a further move back to $161,78.
Fundamental
Tesla showed substantial production numbers in their latest quarterly report. For the fourth quarter, production for their Model S/X cars came in at 20,613 showcasing 57% growth from the same quarter last year. In the same light, production for the Model 3/Y grew 43% to 419,088 in a quarter that saw 44% production growth. However, increasing production means nothing if there is no demand for your products. Their global vehicle days of supply inventory rose to 13 days, up from 8 days the year before. Even though that number increased, showing a potential slowdown of demand, it is still low compared to the historical levels the company has reached. It is, however, worth keeping an eye on going into the next quarter. Tesla is also set to receive an influx of demand from China, which has already sold 66501 electric vehicles (EVs) in January, surpassing estimates. These sales were aided by the announcement of price cuts on their Model Y and Model 3 automobiles. They also plan to increase Shanghai production to 20 000 units per week in the next two months as they continue to capture market share in Asia. Globally, they enjoy the majority of the claim in the EV market. However, this share has decreased over the last year or two as more and more competitors enter this lucrative industry. In 2021, Tesla made up 72% of all new EVs sold globally. In the latest year, this percentage dropped to 65%. Even though it is diminishing, 65% is still a huge share. With new additions like the highly anticipated cyber truck, they continue to make headways in exploring opportunities in the industry. Demand is also increasing in the US space. They were recently able to raise the prices of their Model Y component as increasing demand for the product followed a new measure implemented by the Biden Administration that is helping their top-line growth.
This new measure allows crossover SUV vehicles to qualify for the electric vehicle tax credit, boosting demand in the states. What also sat well with investors in their latest report was the ability to expand their margins during challenging macroeconomic circumstances. Their vehicles' average selling price has decreased in the last five years, but their operating margins kept expanding due to lower-cost models and more efficient factories. In the fourth quarter of 2022, they reduced their operating expenses by 16%, cancelling the adverse effect their price cuts will have on their bottom line. The focus will be placed on the manufacturer's ability to maintain its margin expansion and high demand for its vehicles as it attempts to navigate the uncertainty of the markets going forward.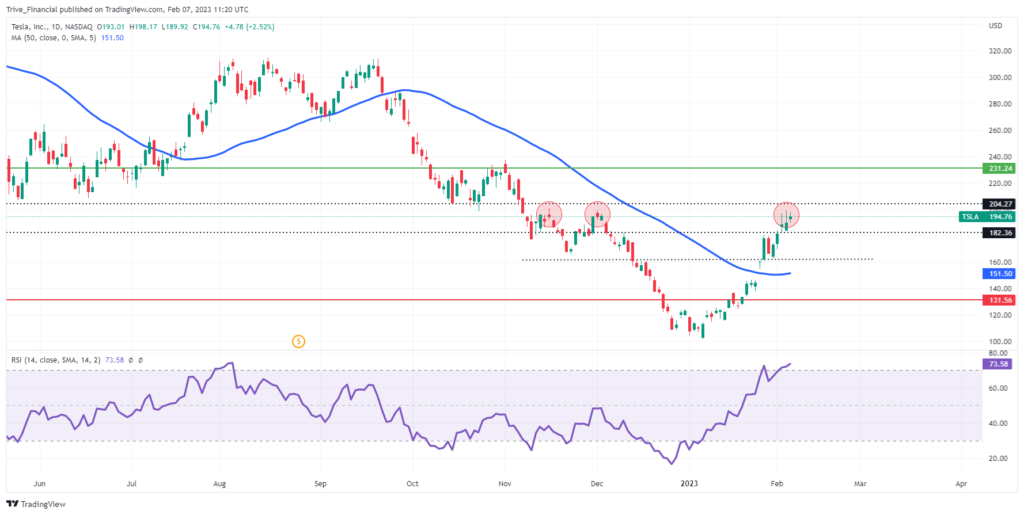 Summary
Tesla surprised investors with a mouth-watering fourth-quarter earnings report. As their production continues to increase, combined with a bullish demand outlook by management, there are positive signs for long investors in Tesla. However, there should be caution about the effects of the macroeconomic downturn on demand for their vehicles and the tightening of their margins. If the outlook by management plays out, there could be a potential long entry point at $182,36 with an estimated target price of $231,24.
Sources: Koyfin, TradingView, Tesla, Inc., Yahoo Finance, Financial Times