Brent crude oil futures (NYMEX: BB) took a 3.77% knock after the US released Non-Farm Payrolls, signalling a more robust than you-think US Economy. Traders piled into the US Dollar, leaving capital outflows in commodities and other asset classes.
The strong jobs market signifies strength in the US Economy and is likely regionally. Oil prices may have seen a temporary selloff after the report; however, a firm or growing economy is positive for oil, especially a US economy.
Technicals
Brent crude oil futures opened February with bears in complete control, and the price has steadily trended downwards, just off the mark of 2023's lows.
Following Friday's selloff, a resistance formed at $83.47 per barrel (BLL), while support is at $79.11 BLL. The retracement from January's highs was met with solid bullish pressure at $79.11 BLL, signified by a wick rejection to the downside on high volume. Bulls have since pushed the price higher and are likely to set targets at $83.47 BLL if they continue their pursuit.
If bulls retreat, bearish traders will likely view the support at $79.11 as a potential target for short positions in short to medium term.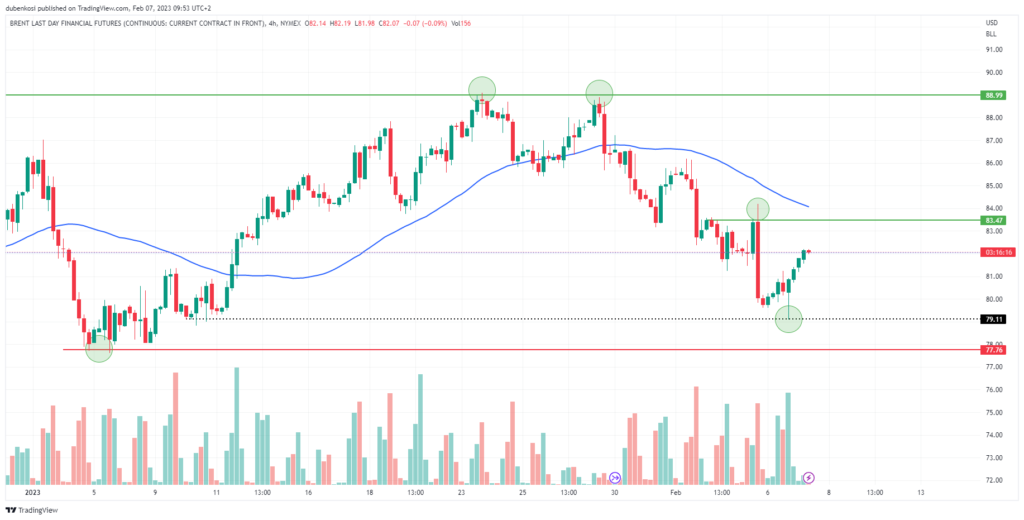 Summary
China's reopening and US's economic strength are positive signs for oil. Demand side elements seem to be elevated, while the supply side remains stagnant, per OPEC's output guidelines. Oil prices are, therefore, likely to experience upward movement. However, this may be offset by a headwind in near sight, especially potential interest rate hikes targeted at slowing down economic growth.
Sources: Reuters, EIA, Seeking Alpha, TradingView