The Gold Spot Price (XAUUSD) has found relative ease, moving to the upside after gaining 2.49% last week. The greenback's weakness boosted the precious yellow metal as traders gauged the path of the Federal Reserve. All eyes will be on the U.S. Fed Chair Powell's Testimony and Non-Farm Payrolls as traders look to the Fed for an interest rate yardstick.
Technical
Following a breakout of the downward-sloping trendline, an uptrend commenced, leading to a breakout above resistance which now forms support at the 1844.01 level. Resistance currently stands at the 1861.90 level.
Following a low volume retracement to the support level, which coincides with the 50% Fibonacci Retracement level, price has consolidated as traders await U.S. Fed Chair Powell's Testimony. Bullish traders could find interest in participating in upward price action from support. The next probable level of interest for a bull case is the 1861.90 level.
Alternatively, a breakout below the 1844.01 level on high volumes could validate the build-up of bearish momentum, leading to the XAUUSD spot price decline, with the 1840.61 level a probable point of interest.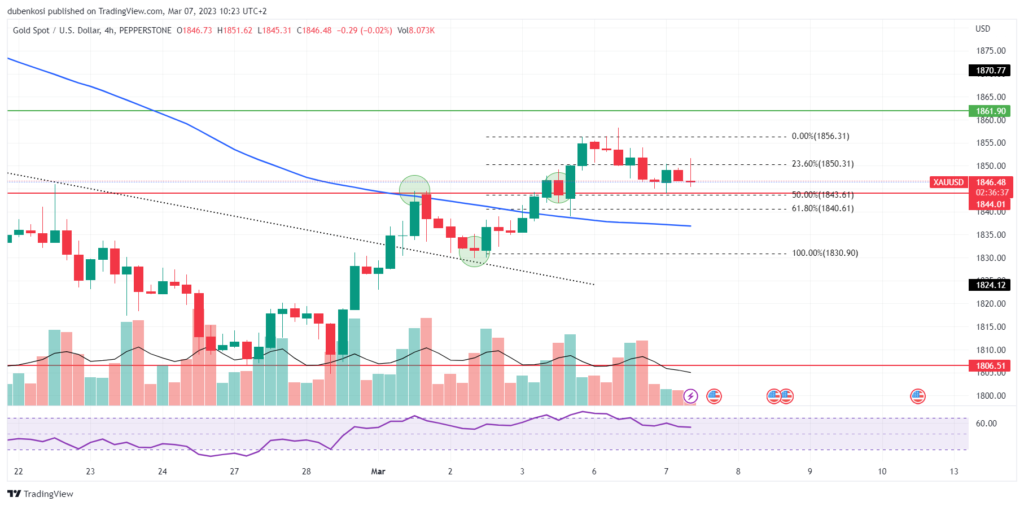 Summary
The key driver for the Gold spot price will be U.S. Fed Chair Powell's Testimony. If the Fed Chair expresses hawkishness, the XAUUSD will likely find ease in moving lower, as higher interest rates attract capital to U.S. Dollar cash and Bonds at the expense of metals. A breakout below the 1844.01 level could justify the formation of a bearish trend.
Sources: Reuters, CNBC, TradingView