T-Mobile (NASDAQ: TMUS) led the communication services sector on customer growth for an 8th consecutive year and expects to make it 9 in 2023. A 4% growth in T-Mobile's total customer base contributed to its highest revenues on record and is likely to be an ongoing theme in 2023.
Despite posting record services revenues and industry-leading growth metrics, T-Mobile's bottom line declined by 14% year on year due to after-tax merger-related costs of $3.7B and a loss on sale of assets of $0.815B. Yet, excluding after-tax expenses and losses incurred, T-Mobile's net income is healthy and over 2021, signalling a business with operational health and a decent outlook.
Technicals
T-Mobile traded in a range for over two months as traders anticipated earnings and key economic fundamentals for direction. The market edged higher post earnings after traders reacted positively to earnings beating estimates by 32%.
A rejection from resistance occurred at the $152.40 per share level as bears began to drive the market down towards support at $137.69. Bulls have regained market control at the 61% Fibonacci retracement or the $141,82 per share level. If bulls continue to pile into the market at current levels, the $152.40 per share level is a potential target and lines up with improved 2022 performance for T-Mobile.
However, if bullish investors give in at present levels, the price will likely be directed downward towards support at $137,69 per share or lower if a breakout ensues.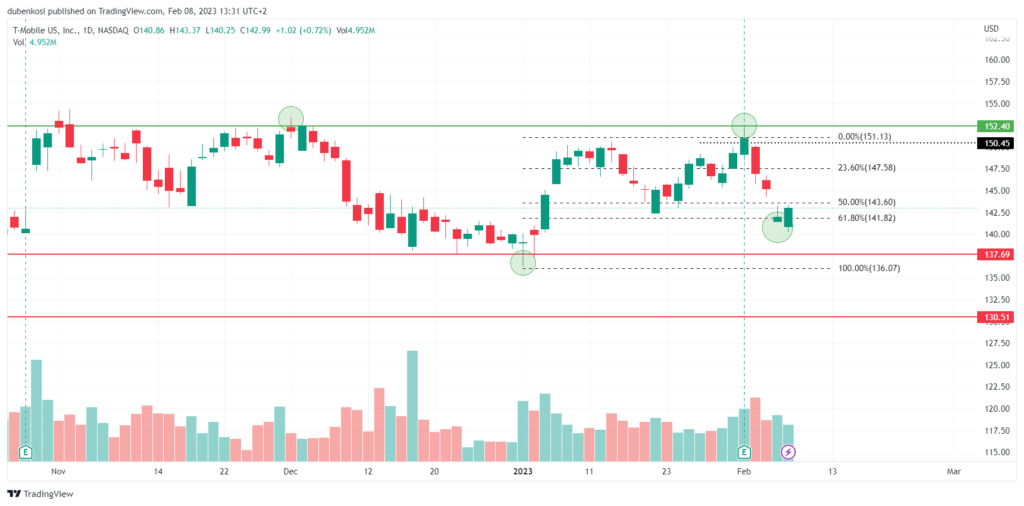 Fundamentals
Services revenue was up 5% year-over-year to $61B, primarily driven by industry-leading growth in postpaid services of 8%. The total customer account increased to a record high of 113M and is expected to grow between 4-5% as per T-Mobile's 2023 outlook.
A drop in net income was offset by modest operational health reflected by a 12% year-over-year growth in EBITDA to $26.4B. According to T-Mobile's earnings release, this was primarily due to revenue services growth and improved group synergies.
After discounting for future cash flows, a fair value of $ 150.45 per share was derived. T-Mobile trades at a 5% discount to fair value, leaving some room for the upside.
Summary
An independent third-party expert crowned T-Mobile the new overall network leader after realising industry-leading growth in revenue, net cash and customers. T-Mobile is unlikely to face severe headwinds in 2023, supported by disinflationary progress in the US economy and the likelihood of suppressed rate hikes. The outlook is positive, given that T-Mobile leans into its position as an industry leader and grows its customer base in 2023 to attract higher earnings.
Sources: T-Mobile, TradingView, Koyfin