After releasing earnings above expected, Merck And Company Inc's (ISIN: US58933Y1055) share price surged 250 basis points as investors scrambled to buy the stock on the back of its upbeat first quarter. However, its share price has begun to retrace as the excitement fizzled out, giving way to some bearish pressure.
Merck and Company's earnings beat Wall Street Expectations by 5.97%, landing on $1.40 per share, while revenues beat the mark by 5.03% to close the quarter on $14.5B. Revenues declined year-on-year due to a sharp drop in COVID product sales; however, excluding this segment's drug sales, sales were up 10%, painting a much rosier picture for the company.
Technical
Merck & Company's share price has gained 5.08% from the onset of 2023, primarily driven by its investor appetite for healthy earnings results in the final quarter of 2022. The share price is trading in an uptrend as the 100-day moving average is well below the current share price, while the market has broken through ceilings to push higher. Support and resistance were established at the $84.68 and $118.62 per share levels, respectively.
With bears currently driving the share price lower and RSI conditions pointing to overbought levels, a retracement from resistance could be in progress. Bullish investors will likely sit out of the market to buy the stock at a discount, given that the move higher has already played out.
A prior reversal from the 50% Fibonacci Retracement level at $102.18 per share formed support. If a retracement from resistance plays out, the $102.18 per share level will likely lure bullish investors into taking a long opportunity, given that demand once outweighed supply at the level.
Bullish investors will likely aim for the $118.62 per share level in their pursuit to profit from the stock. However, if bearish investors maintain their grip on the company's share price direction, a high volume breakdown below the $102.18 per share level could indicate that a leg down is still in progress. Bullish investors could thereby turn to the $84.68 per share level to find long opportunities. If price action approaches either the $102.18 or $84.68 per share levels on declining volumes, it could signal the dissipation of bearish momentum, with a reversal imminent.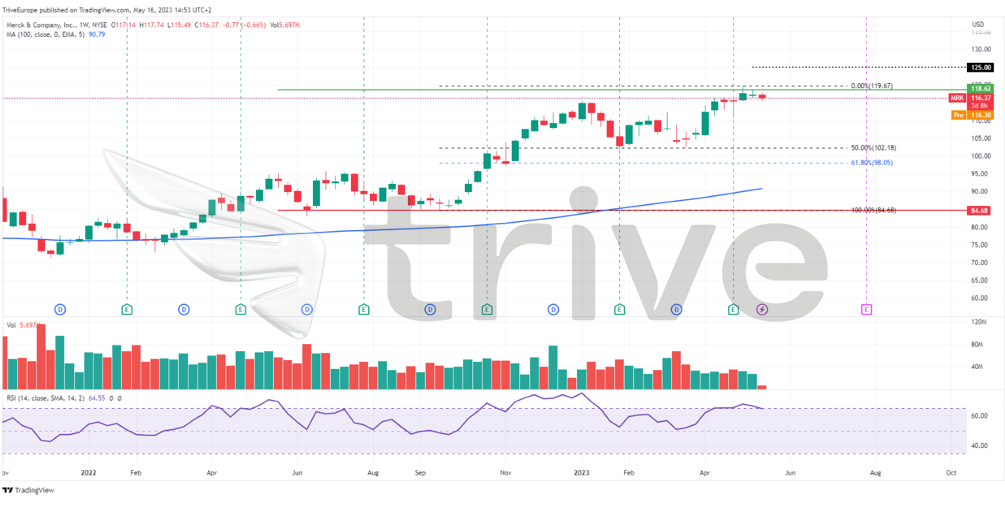 Fundamental
Despite a 9% drop in sales from the quarter a year ago, Merck and Company's sales remain very healthy and upbeat when excluding the 10% slump from sales in its COVID products. The better-than-expected top-line result was boosted by a hefty increase in the sale of the cancer immunotherapy drug, Keytruda and the HPV vaccine Gardasil. Both products experienced mouth-watering growth, with sales of Keytruda up 20% to $5.8B and Gardasil up 35% to $2.0B. However, growth in sales was offset by an 88% decline in sales of Lagevrio, the COVID medicine, steeply down to $392M from $3.2B a quarter a year ago.
Merck and Company raised its guidance for 2023, reflecting the company's confidence in its operations and profitability. Sales are forecast to be between $57.7 billion to $58.9 billion, up from its previous forecast of $57.2 billion to $58.7 billion. Earnings are expected to be $6.88 to $7.00 per share, from $6.80 to $6.95 per share previously.
After discounting for future cash flows, Merck and Company's return potential could be 7.50% with a fair value of $125.00 per share.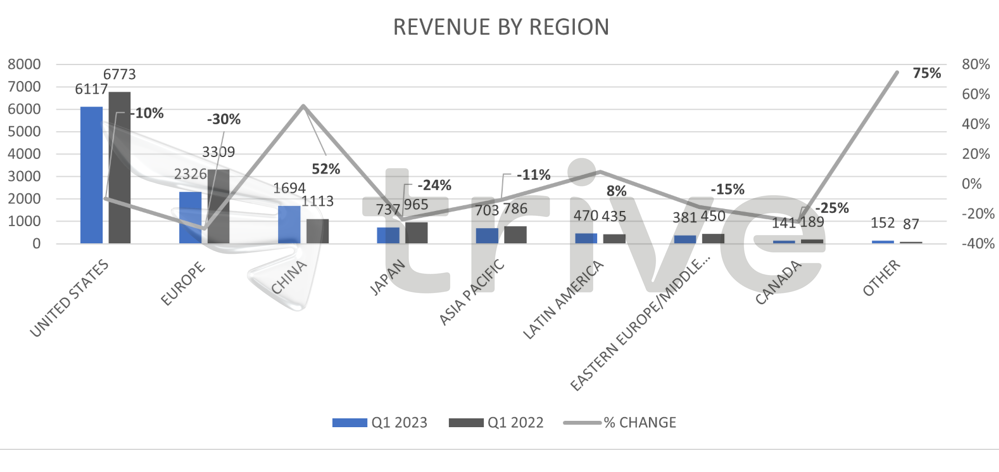 Due to pandemic infections plummeting from their peak, sales in the majority of operational regions declined for the quarter against last year's first quarter. The European market sales were the most impacted by the decline in sales of -30%, followed by Canada and Japan, whose sales plunged 25% and 24%, respectively. The only markets that saw positive performance for the quarter were the Chinese and Latin American markets, with 52% and 8% growth, respectively. The Chinese market remains a crucial source of growth for Merck and Company, simply by the sheer size of the market and population.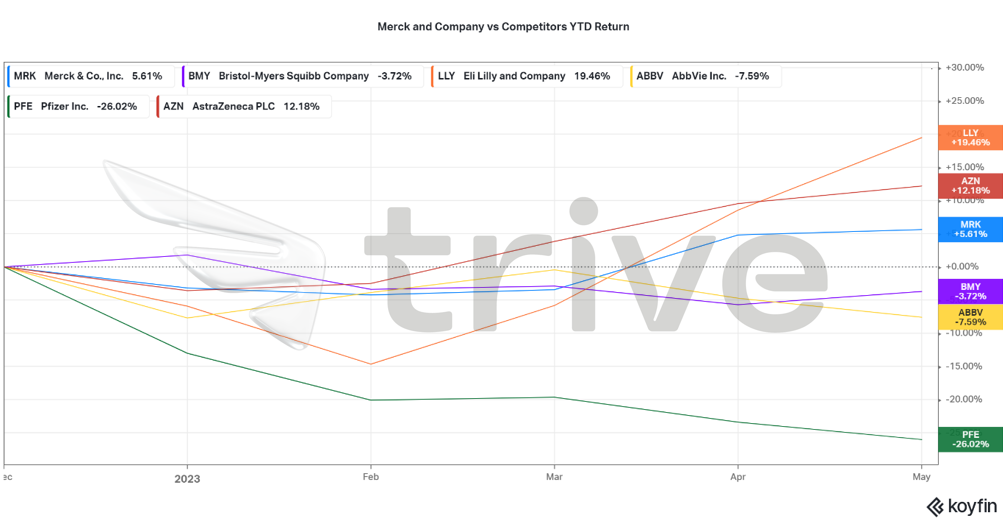 Among some of its biggest competitors, Merck and Company falls in the mid-range of year-to-date returns with a growth of 5.61% in its share price. This could indicate that the investment community is relatively comfortable placing funds into the company, as its performance stands out while its outlook is upbeat.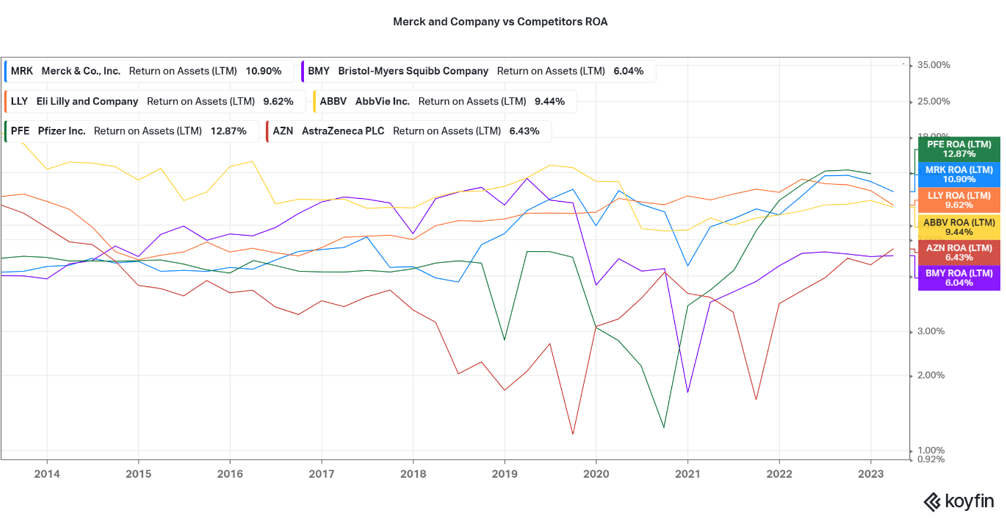 Over ten years, Merck and Company has had superior income-generating capacity on its assets compared to its competitors, with only Pfizer Inc (ISIN: US7170811035) ahead of it. The company still represents a solid investment compared to its competitors due to its ability to generate stable income with its asset base.
Summary
If Merck and Company meets its expectations set by the industry and internally, the share price could find little friction to the upside. With recessionary talk becoming a conversation, the company is well-positioned to weather the storm, given its defensive stature. Healthcare demand typically withstands negative economic pressures due to its necessity. The $125.00 per share level is probable, given that no force majeure events affect the company's stock appetite among investors.
Sources: Merck and Company Inc, Reuters, Nasdaq, TradingView, Koyfin