Mcdonald's (NYSE: MCD) reported an impressive double beat in their earnings report on Tuesday. Still, investors needed a better taste for the results, as the share price trended down in early trading.
Earnings per share of $2,59 beat estimates by $0,13, and revenue of $5,93Bn beat estimates by $180M. However, the enthusiasm was abruptly halted by a pessimistic update on their forward-looking margins that forced the share price to open lower and close at $267,40 on Tuesday.
Technical
After reaching highs of $281,49 in November of 2022, Mcdonald's has slowly trended downward to current levels of $267,40. The price has fluctuated around the 50-day moving average in the last couple of days. A breakout to the downside below the support level of $269,87 happened after the earnings got released, a clear indication of more bearish momentum as investors priced in the inflationary worries and the effect that the macroeconomic conditions will have on their margins going forward. The market attempted to close the gap in the Tuesday trading hours, pushing the price up as it reapproached the $269,87 support level. The price can possibly retrace to that level before experiencing more downside if that support does not hold, with the economic growth outlook becoming increasingly dim. This could bring the support level of $261,77 into play. However, with Mcdonald's capturing a lot of market share and growing sales in all segments of their business, an eventual target price to the upside occurs at $284,43. The more downside the stock experiences in the short term, the more opportunities open up for investors who are bullish on the long-term outlook for the stock.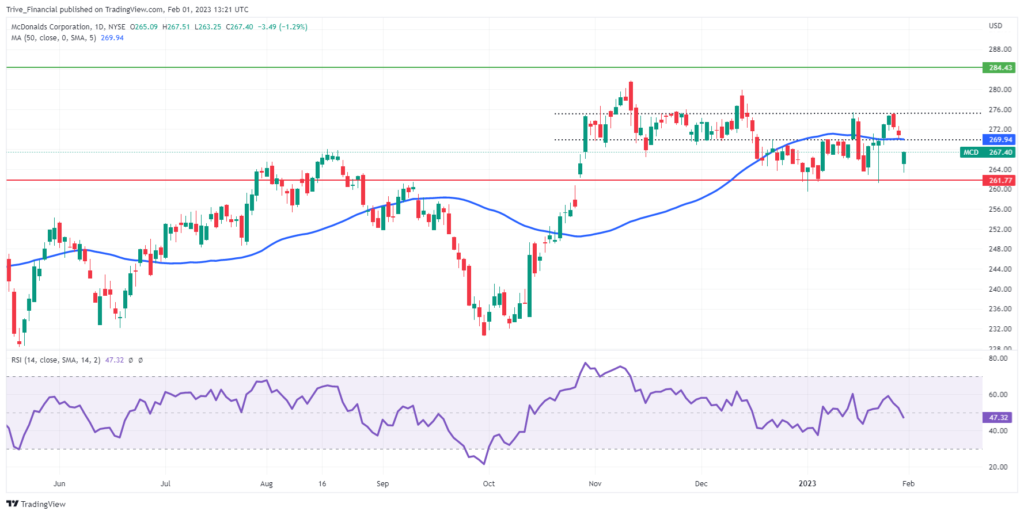 Fundamental
Mcdonald's shares are relatively well positioned in the current macroeconomic environment, as its defensive nature generally provides a shield against the adverse effects of an economic downturn. In the wake of the earnings release, investors were looking for US and global comparable sales to determine the company's financial health amid deteriorating economic outlooks. Global comparable sales were up 12,6%, beating the 8% consensus, while US comparable sales were up 10,3%, beating the 7,8% consensus. This rise was attributed to highly successful campaigns for their menu and marketing and continued growth in their digital and delivery businesses. The menu marketing campaigns included the Cactus Plant Flea Market Box, a limited edition food box essentially acting as a happy adult meal. The addition of the McRib sandwich on their menu, albeit temporary, also drove revenue up, resulting in higher comparable sales figures. Higher menu prices further contributed to the success of their fourth quarter. Mcdonald's has been generating more sales than their competitors and taking more market share in the stable industry. By focusing on their core items and not expanding in other areas, they have managed to improve the efficiency of their stores and pushed sales higher.
On a price-to-sales basis, Mcdonald's is surprisingly overvalued. Their P/S multiple of 8,4x is higher compared to industry peers of Chipotle and Wendy's that have P/S multiples of 5,4x and 2,9x, respectively. However, investors are willing to pay more for the share, with Mcdonald's accelerating the arches initiative driving growth. This initiative is now further focused on growing its store base, with an additional 1900 locations expected to be opened in 2023. The fourth quarter financials indicated positive results and a solid quarterly performance. The drop in share price was not due to what happened but rather the outlook for 2023. Inflationary pressures are likely to weigh on margins in the next year, dimming the shorter-term outlook. For the long-term investor, fundamentals look strong, and even with more downside being possible, they are edging industry peers in capturing market share and growing their business.
Summary
After a drop in share price due to inflationary pressures weighing on margins, Mcdonald's might face further downside. However, as a defensive stock during periods of high market uncertainty, there is a potential entry point for investors at $261,77 if support does not hold at $269,94. The eventual estimated target price of $284,43 provides a decent upside for investors if fundamentals in the company hold.
Sources: Koyfin, McDonald's Corporation, TradingView.