Cisco Systems Inc (NASDAQ: CSCO), once crowned the most valuable company in the world in March 2000 (with a $500B market capitalisation), had a stellar year after realising solid earnings results for its Q2 2023. Investors will also welcome stronger revenue and earnings guidance for 2023 with open arms as it could boost the share price going into 2023.
Operational efficiency was a key driver for growth in 2022 and will likely be the case as we advance further into this year. As operational efficiencies translate to financial health, Cisco Systems' share price might experience less friction to the upside.
Technical
Cisco Systems has recently consolidated sideways in a rectangle pattern after pausing from a rally in the final quarter of 2022. Support and resistance were established at the $46.42 and $49.41 per share levels, respectively. Fuelled by optimism on the back of solid earnings, the pre-market price gapped above resistance, settling on the $50.21 per share level.
The gap up could signal bullish enthusiasm among investors, with the next probable level, the last significant supply zone or high at the $56.85 per share level. If bears force their way into the market, price will likely be dragged down toward the $46.42 per share level. However, this scenario could face bullish resistance as bulls have few fundamental reasons to give up their command.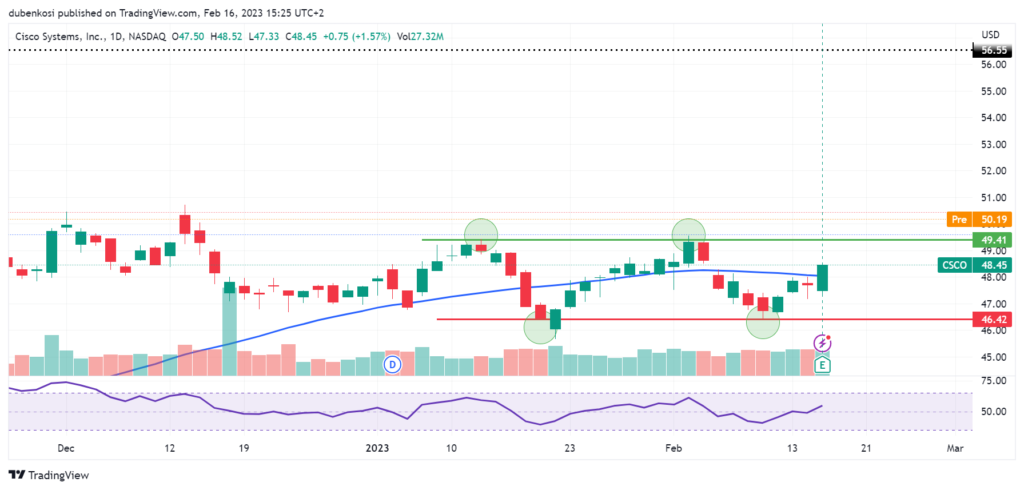 Fundamental
On a quarterly basis, revenue for the year grew 7% to $13.7 to deliver the second-best quarter on record, while non-GAAP EPS posted a record high realising $0.88 on the share. Despite several economic headwinds faced in 2022, spending on network infrastructure remained resilient and fed into Cisco Systems' stellar year.
Contributing to Cisco System's robust operational performance was a commitment by its engineering teams to redesign multiple products, which led to increased product deliveries and improved customer lead times. The result was a mouth-watering 93% growth in year-over-year operating cash flow to $4.7B, supported by improved collections.
Fuelled by the strong demand for cloud-driven networking, the maker of routers and other computer-run software services stated that it expects fiscal 2023 revenue growth of at least 9%, while earnings per share is expected to reach $3.73, compared to 4.5% and $3.51 previously forecasted.
America contributed 9% of revenue growth, followed by Europe, Middle East and Africa (EMEA) with 5% growth. The revenue growth trajectory will likely benefit from an economic recovery on the horizon, considering that consumer spending remained resilient in the tough economic conditions presented in 2022.
Summary
After discounting for future cash flows, Cisco Systems' fair value was derived as $56.55 per share, coinciding with a technical resistance level. A 13% premium to the current pre-market price is probable, given that 2023's guidance is positive.
Sources: Cisco Systems Inc, Reuters, TradingView, Koyfin