The Alibaba Group (NYSE: BABA) started the year with a staggering 30% year-to-date performance, drawing in even the most conservative investors with their lucrative returns and exciting outlook amid a reopening of the Chinese economy.
After losing more than half of its value in a challenging environment last year, Alibaba is recovering faster than it could have hoped. This leaves investors wondering how much more this stock can rise before all the optimism surrounding it is priced in. As a result, all eyes are on their next quarterly earnings release to determine whether earnings are growing at the same rate as the price and for guidance on what can be expected in the year going forward.
Technical
After realizing substantial gains in the early part of the year, caution re-entered investors' minds over concerns that the rally may be happening faster than the rate at which the company is recovering. A 13% drop followed as the market is in search of support. Currently trading at $106,33, it is heading towards the next support level of $104,35. A breakthrough to the downside of that support could shift the optimistic sentiment back to caution and push it further down to resistance at $95,20. However, if fundamentals hold firm and the expected growth gets realized, the support at $104,35 could be seen as a potential entry point for the long-term investor with a first estimated target price at the $121,56 level, where the market has historically been resisting. A breakthrough above that could fuel the bull's spark to push the price to a final estimated target price at the $138,96 resistance level.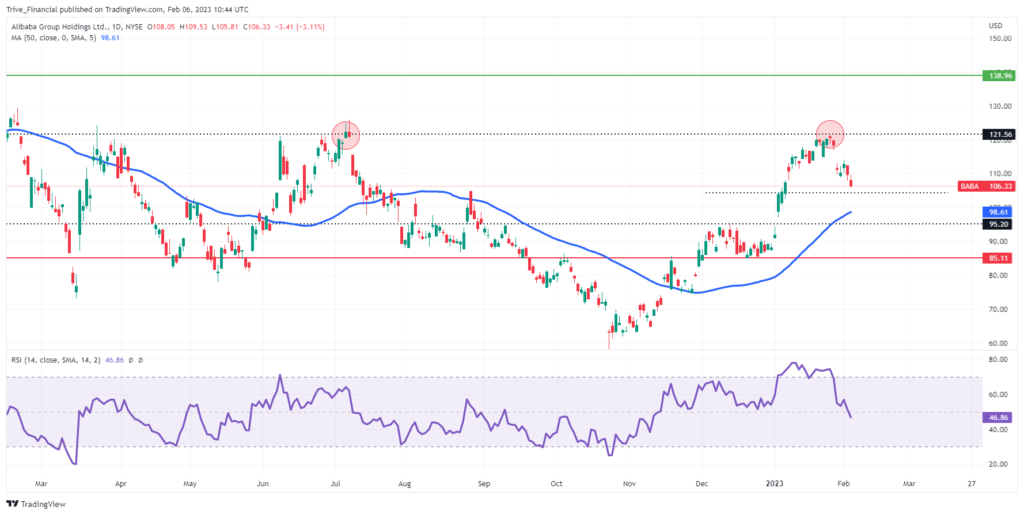 Fundamental
Alibaba has grabbed the attention of investors with its mouth-watering returns in the early part of the year. The fundamental outlook behind the optimism is largely based on the reopening of China and the easing of their zero-Covid policy restrictions. The reopening is seen as a catalyst to unlock further growth in the China commerce section, which is their largest revenue segment. This segment suffered the most during the period of regulatory restrictions regarding China's Covid-19 stance, and doors have now been opened for a large-scale recovery in spending, much to the benefit of the e-commerce giant. Their second-largest segment by revenue is their cloud segment. With only 5% of the market share in this sector, they may be considered behind compared to their competitors in this space, with the likes of Microsoft and Google enjoying most of the share. However, this sector is rapidly expanding, and Alibaba is showing signs of heading in the right direction. In their previous quarterly results, it was not only the revenue of their cloud segment that grew by 4% year on year but also the growth in their non-internet industries (NII). Their NII sales grew by 28% year on year, and these industries account for almost 60% of their cloud revenue, suggesting that further growth in this segment is on the cards if they can continue expanding in these areas. There are, however, concerns about disruptions by competitors. JD.com and Pinduoduo are also showing signs of growth and could present Alibaba with a lot of competition in the Chinese e-commerce space. Tencent also poses a threat of capturing market share in the cloud computing segment. However, when looking at these companies, Alibaba appears to be relatively undervalued. They are currently trading at an EV/EBITDA ratio of 9,3 compared to 17,9, 16,9 and 14,9 by Tencent, Pinduoduo and JD.com, respectively. Another topical point surrounding Alibaba is Jack Ma's decision to depart from the fintech Ant Group. Alibaba has a 33% stake in Ant Group. The group attempted to go public in previous years, but Chinese regulators prohibited this action. With Jack Ma stepping away, doors are opening for a potential IPO that could result in a large amount of cash inflow. With an increase in Chinese retail sales growth amid the reopening and easing of their policies and robust demand from Chinese New year festivities, investors will be looking for signs of further growth in the guidance to be given in their following earnings report, which is yet to be released. There is no indication strictly when the earnings report scheduled for the 6th of February will be released. Still, investors will keep a close eye on these fundamentals when they arrive. Investing in Alibaba generally comes with a lot of volatility surrounding the regulatory environment.
Summary
A lot of optimism surrounds Alibaba as China continues their reopening. If fundamentals hold firm and the company provides positive guidance in its next earnings release, a potential long entry point exists at $104,35 with the first estimated target price of $121,56 and a second at $138,96.
Sources: Koyfin, TradingView, Alibaba.com, Yahoo Finance.