British American Tobacco (LSE: BATS) saw its share price slip 5% at the back of earnings reports that did not quite meet traders' expectations. Numerous investment banks downgraded the stock as its outlook for the future is not what it once was. On the other hand, the bears did not generate enough momentum to force significant downside action, as the share price recovered its early losses in regular trading hours on Thursday.
Revenue for the financial year 2022 was up 7,7% to £27,66Bn while earnings per share contracted 1,3% to £2,92. Operating profits rose by 2,8% to £10,5Bn, and full-year dividends got raised by 6%. The earnings report may have been a miss, but traders are not entirely out of the market for the stock as it continues to grow its profit and free cash flows. The outlook for 2023 includes 3%-5% organic growth in revenue as the company continues to enjoy a large amount of market share.
Technical
British American Tobacco's shares followed a prominent trend in recent markets by consolidating after a rally in the formation of a descending triangle. Neckline support formed at 3193,5, with lower highs confirming the downward trend. Following the earnings release, the share price opened much lower, around 2892,5. Loss recovery occurred in regular trading hours but not with enough momentum to test the neckline support. The stock price may keep pushing up towards that support at 3193,5 before either retracing and consolidating in a lower range between 3016 and 3193,5 or pushing through support to retest the descending trend around 3301,5. The longer-term investor may keep an eye on that movement as a breakout above neckline support could signal a potential long entry as the share price starts to converge towards a level estimated to be fair value at 3795,0. Along the way, it might meet resistance at 3451,5 and 3647,0, where the market was previously hesitant to push higher.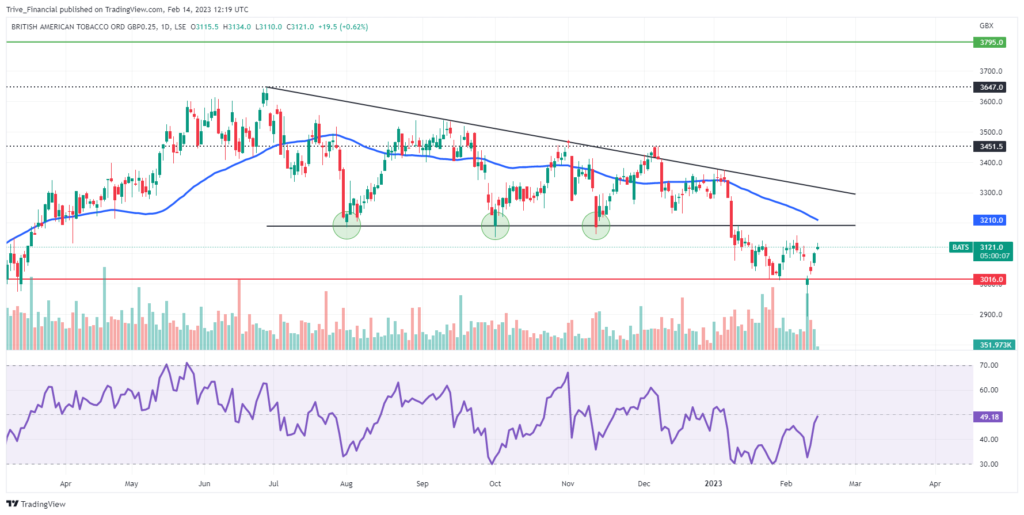 Fundamental
The majority of the company's revenue comes in the form of its combustibles segment. In 2022, more or less 80% of the revenue came from combustible sales. This raised concerns from investors as the demand for cigarettes globally is on a long-term decline. In the last financial year, cigarettes and tobacco heating product volumes sank by 4,2%, and the outlook for tobacco volumes in the upcoming year suggests a further 2% decline. Despite this, the company continued growing its revenue as higher prices drove its top line. The concern lies around their ability to grow revenue sustainably amid declining volumes, as continuously raising prices may not be sustainable. Hence, the company started driving investment in an alternative segment that could support future returns. Their new category segment grew revenue by 41%. This segment, consisting of three brands, namely Vuse, Velo and Glo, is not yet profitable, but the company reiterated its commitment to driving investment into this part of the business. In 2022, £2Bn was invested into new categories, and this investment is expected to continue into 2023. The investment aided the efforts to reduce operating losses by 62% in their latest year, while it is expected to return profits by 2024, one year ahead of the initial schedule. This segment is also well on track to meet the £5Bn revenue by 2025 goal as volume continues to grow in all three categories. However, management also warned that harsh macroeconomic conditions might continue to persist in the upcoming year, which could lead to further strain on volumes. These macroeconomic conditions include higher interest rates, putting pressure on the company as net debt increased by 7,3% in 2022 to £38Bn. Future debt repayments may take investment away from its growing businesses and shareholders towards meeting obligations and could also strain future dividend payments to investors and growth in segments that are necessary to drive top-line growth.
Summary
British American Tobacco is consolidating downwards amid uncertainty over its future prospects due to declining volumes in its main revenue generator. However, suppose the company manages to start turning a profit in their new categories segment as an alternative source of revenue. In that case, there could be a possible long entry in the share price if a breakthrough above neckline support at 3193,5 holds. Convergence to estimated fair value could open up a potential upside of 18% to 3795,0.
Sources: Koyfin, Tradingview, Yahoo Finance, Reuters, British American Tobacco p.l.c.