Piece Written By Nkosilathi Dube, Trive Financial Market Analyst
Tesla Motors Inc. (ISIN: US88160R1014), a pioneering force in the electric vehicle industry, has encountered a challenging third quarter marked by a 2.32% dip in its share price. This decline can be traced back to the resurgence of bond yields and a growing preference for safe-haven investments amid a nine-week rally of the U.S. Dollar against major currencies, which has exerted downward pressure on risk assets.
Investors have cast a more cautious eye on high-growth companies like Tesla, known for its remarkable performance and a notably high forward price-to-earnings ratio. This shift in sentiment comes amidst broader market volatility.
Despite these hurdles, Tesla remains a compelling force in the automotive sector. In the previous quarter, it achieved record-breaking milestones, including its highest-ever revenue, production, and delivery figures. However, the company's journey forward faces headwinds, including operational challenges. Mainly, the production timeline for its Giga Texas factory has been pushed back to the backend of September due to necessary upgrades in preparation for the Cybertruck launch. Moreover, Tesla is facing difficulties stemming from the dwindling inventory of its Model 3 vehicles.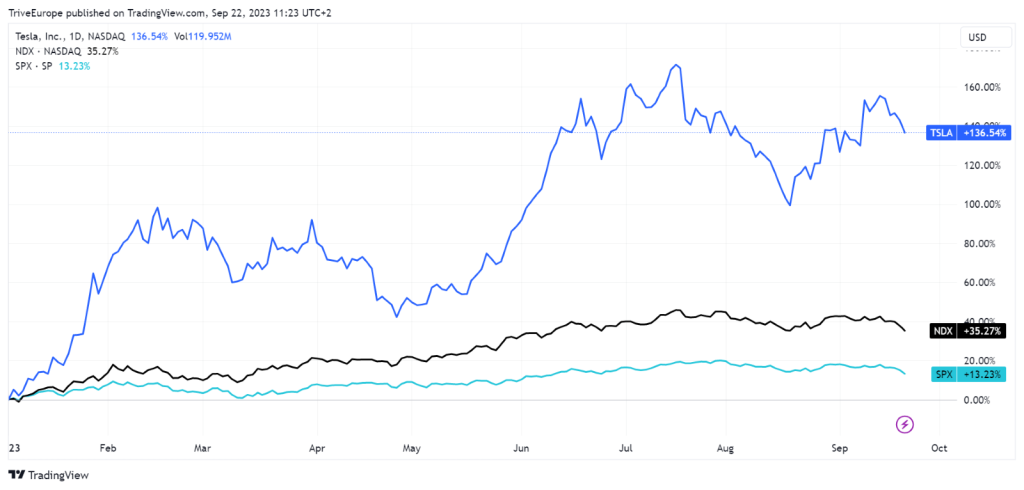 Source: Trive – TradingView, Nkosilathi Dube
Despite encountering both internal and external challenges, Tesla has delivered an astounding year-to-date gain of 136.54%. This remarkable performance signifies a doubling of returns for its investors, surpassing the broader tech sector and stock market benchmarks, as represented by the NASDAQ100 and S&P500 indices. Tesla's ability to achieve such impressive gains amid a backdrop of adversity underscores its enduring appeal and strategic acumen in navigating complex market dynamics.
Technische Analyse
Tesla's share price has recently made a notable shift, breaking free from a descending channel pattern that had kept it in a downtrend since late 2021. The upturn began at $152.37 per share, gaining momentum with positive vehicle delivery reports, bolstering investor confidence. However, the ascent met resistance at $299.29 per share, stalling further upward movement.
Subsequently, the share price experienced a dip, finding support at the 50% Fibonacci Retracement level. This level now stands as a critical support, especially as the share price has dipped for the week following four consecutive weeks of gains. Should downside momentum persist, a retest of this level is likely. A decrease in downside volume as the share price nears this level could signal waning bearish pressure, potentially paving the way for a reversal.
Conversely, a high-volume breakdown below this support may indicate persistent selling pressure, drawing attention to the 61.80% Golden Ratio level as a potential point of interest for bargain hunters. If sentiment turns in favour of optimistic investors, the $299.29 per share level could emerge as a viable target for the share price.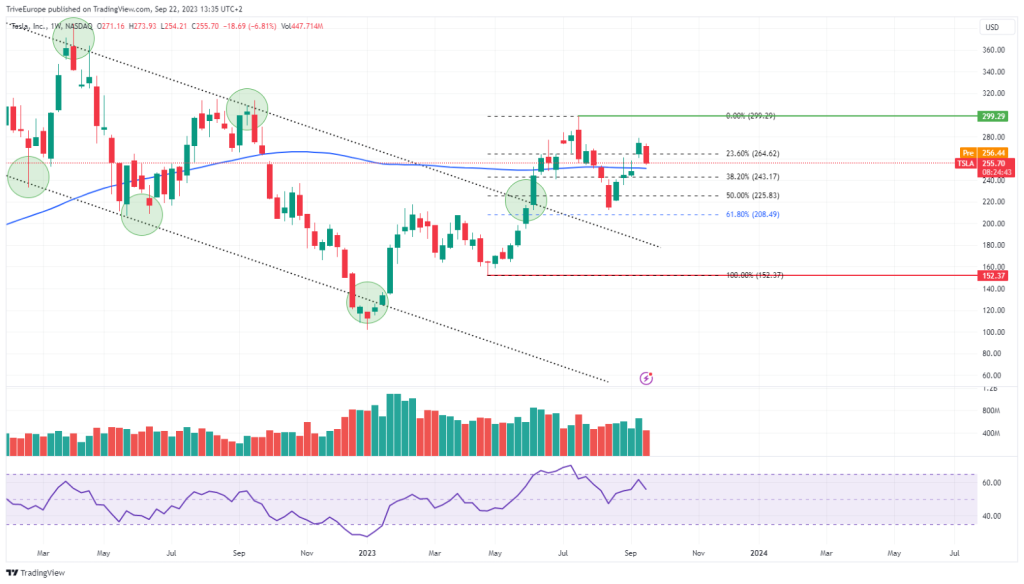 Fundamentalanalyse
During the last quarter, Tesla achieved its highest-ever production and delivery figures, manufacturing 479,900 vehicles and delivering 466,140. This represents an 86% and 83% increase from the same period the previous year. This impressive performance was driven by the successful operations of Tesla's new factories and the strong output of its Shanghai and Fremont plants.
The exceptional deliveries led to a record-breaking quarterly revenue, just falling short of $25 billion at $24.93 billion, marking a 47% year-on-year growth. Notably, it wasn't only the automotive segment that thrived; Tesla's other revenue streams also experienced positive growth. Energy generation and storage revenue surged by an impressive 74% to $1.51 billion, while Services and other revenue saw a 47% increase to $2.15 billion.
However, in terms of profitability, Tesla's performance was slightly weaker compared to the same quarter a year ago. Operating income decreased by 3% to $2.40 billion, resulting in a diminished operating margin of 9.6%, down by 493 basis points over the corresponding period. This was partly due to a lower Average Selling Price, amid price cuts. Additionally, operating expenses rose by 21% year-on-year, largely driven by increased expenses related to ongoing projects like the development of the Cybertruck, Artificial Intelligence, and other major initiatives.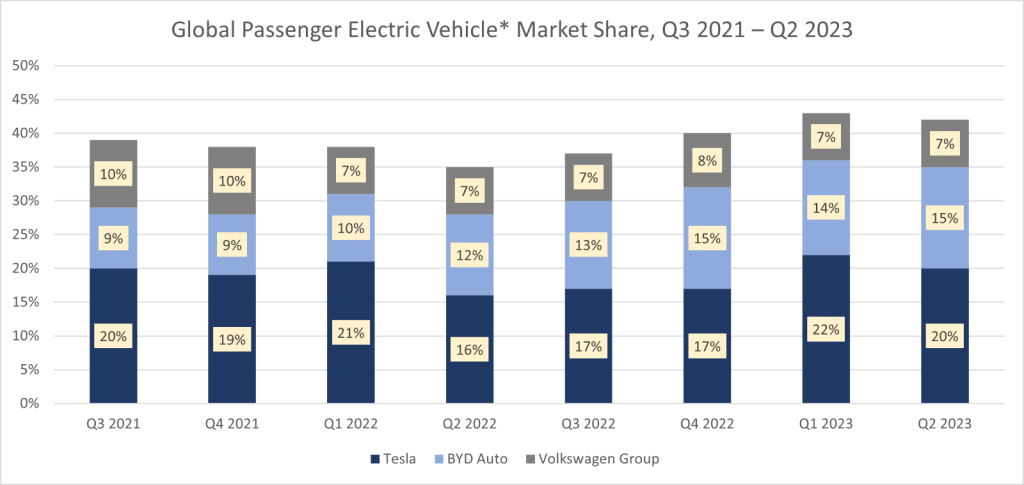 Source: Trive – Counterpoint Research, Nkosilathi Dube
Tesla continues to lead the charge as the top seller of Global Passenger Electric Vehicles, boasting an impressive 20% market share in the second quarter of 2023, surpassing its largest rival, BYD Auto.
The global electric vehicle market has witnessed remarkable growth, with over 10 million electric vehicles sold worldwide in 2022, as reported by the IEA's annual Global Electric Vehicle Outlook. Projections indicate a substantial 35% increase in sales this year, aiming to reach a staggering 14 million units.
According to the latest IEA estimations, this rapid expansion has translated into a notable surge in the electric vehicle market share in the automotive sector, escalating from 4% in 2020 to a substantial 14% in 2022. The trend is poised to continue, with an anticipated 18% market share projected for the current year. These statistics underscore the pivotal role of electric vehicles in reshaping the automotive landscape on a global scale.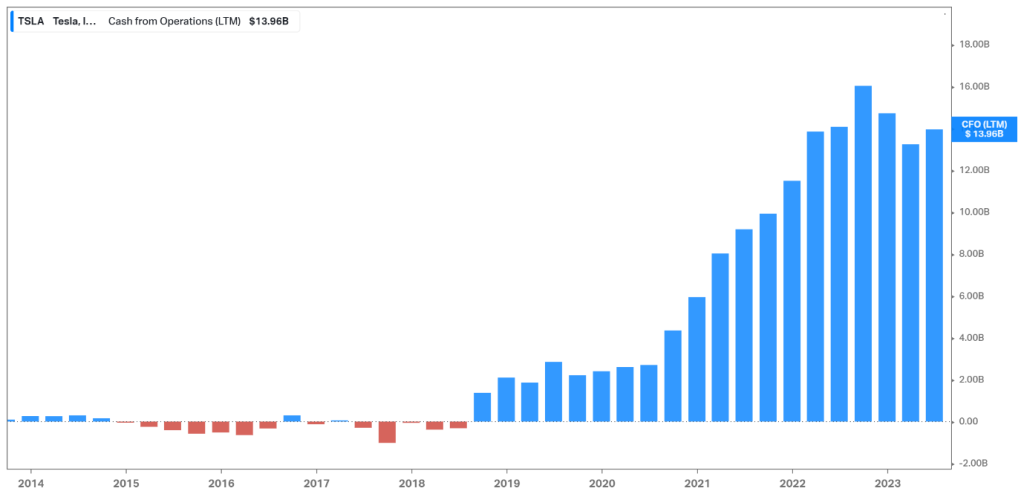 Source: Trive – Koyfin, Nkosilathi Dube
Tesla has experienced consistent growth in its cash from operations, primarily attributable to the expansion of its top-line revenue and an increase in operating income. The company has not only exceeded its first-quarter performance but has also achieved record-breaking sales and deliveries, reaching all-time highs. This sustained growth underscores Tesla's ability to capitalize on its market presence and operational efficiency, further solidifying its position as a leader in the automotive industry.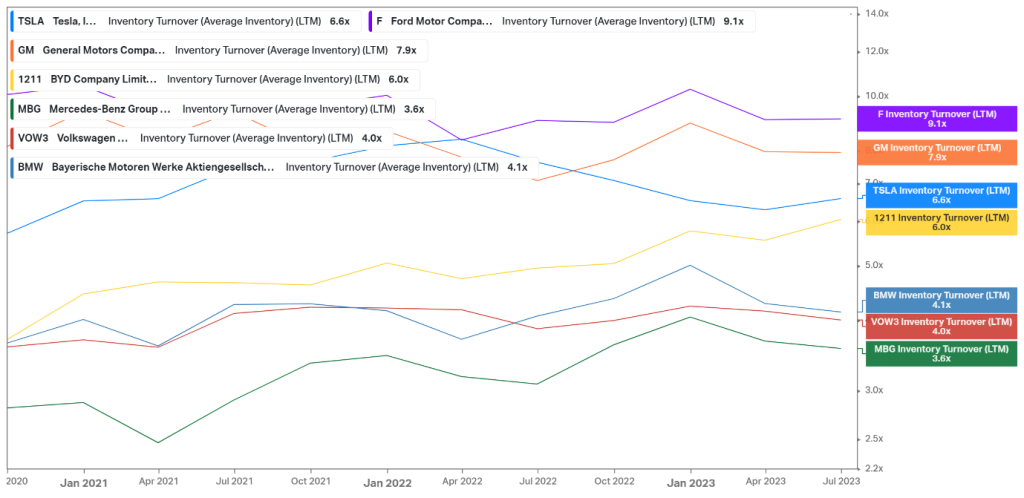 Source: Trive – Koyfin, Nkosilathi Dube
Tesla's inventory turnover stands at 6.6×, positioning it squarely in the middle ground among prominent players in the automotive industry. In comparison to its U.S. counterparts in the combustion engine sector, Tesla lags behind, highlighting its distinct focus on electric vehicles. However, when measured against European competitors in the same sphere, Tesla outpaces them. This demonstrates Tesla's adeptness in managing its inventory efficiently, a crucial factor in maintaining a competitive edge in the dynamic automotive market.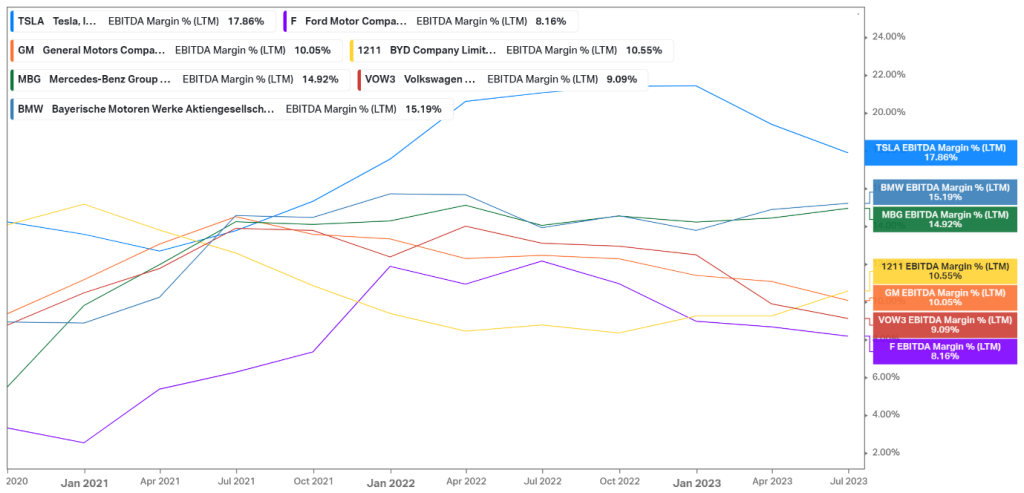 Source: Trive – Koyfin, Nkosilathi Dube
Tesla's robust EBITDA Margin of 17.86% sets it apart in the automotive industry. In comparison, the average EBITDA Margin among its key competitors is 12.26%, indicating Tesla's superior profitability and operational efficiency. This notable difference underscores Tesla's adeptness in generating earnings before interest, taxes, depreciation, and amortization relative to its revenue. Such a favourable margin is a testament to Tesla's ability to manage costs and maximize profitability efficiently, showcasing its strong position in the competitive automotive landscape. This financial metric further bolsters confidence in Tesla's sustainable growth trajectory and strategic financial management.
After discounting for future cash flows, a fair value of $302.00 per share was derived.
Zusammenfassung
Tesla's journey through the third quarter of 2023 has been marked by challenges, including a slight dip in share price. However, Tesla's resilience shines through amidst market volatility and operational hurdles. Record-breaking figures in production, delivery, and revenue exemplify its prowess. With a soaring year-to-date gain and notable profitability metrics, Tesla remains a trailblazer in the electric vehicle sector. Its strategic focus on innovation and efficiency in inventory turnover further solidifies its position as an industry leader. As the electric vehicle market continues its impressive growth trajectory, Tesla's pivotal role in reshaping the automotive landscape is evident, underlining its enduring appeal and strategic insight.
Sources: Tesla Motors Inc, Reuters, IEA, Counterpoint Research, TradingView, Koyfin