The U.K. economy has finally escaped the chokehold of double-digit inflation, following a Year-on-year reading of 8.7%, down from 10.1%. However, the inflation rate still exceeded the expectation of 8.2%, reflecting that more progress is needed in lowering it. The Pound's recent vigour has seemingly ended, with the EURGBP currency pair trading sideways.
Given that inflation is still far from the 2% target in both the U.K. and Euro Area, more rate hikes are likely to be implemented by the Bank of England (BOE) and European Central Bank (ECB); however, the BOE has more work to do.
Técnicos
Following a sharp downturn from resistance at the 0.88338 level and a break below the 100-day moving average, the EURGBP currency pair has found support at the 0.86761 level. Price action has begun to consolidate sideways, forming a rectangle pattern at the support level, with bulls and bears mainly in balance.
A breakout to either side of the consolidation pattern could validate an extended move in the direction of the breakout. If a high volume breakout above the pattern ensues, it could indicate that bulls have won the battle. Bulls will likely aim for the 0.88338 level if they commit to the upside. In contrast, a high volume breakout below the pattern could validate a move lower with bears advancing. The 0.85750 level will likely be earmarked as a point of interest by bearish traders.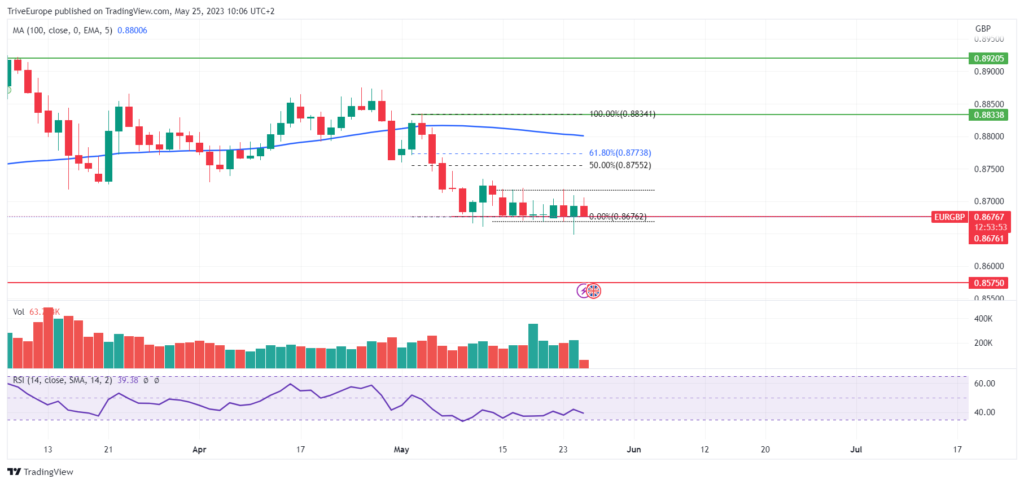 Resumen
Europe's biggest economy, Germany, entered a recession in the first quarter after its output (GDP) contracted 0.3% for the quarter, following a 0.5% contraction in the last quarter of 2022, fitting in with the definition of a recession (two consecutive quarters of contraction). This could potentially threaten the Euro's upside potential if other Euro Area members follow suit, giving rise to a likely pause in rate hikes. The 0.86761 and 0.88338 levels will be key to watch as market sentiment will likely be decided by a range breakout.
Sources: Federal Statistical Office, Office for National Statistics, Reuters, TradingView